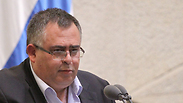 MK David Bitan
Photo: Knesset Spokesman
Attorney General Avichai Mandelblit is expected to reject a proposal by coalition chairman David Bitan (Likud) to revoke the citizenship of B'Tselem Executive Director Hagai El-Ad over a highly critical speech the latter gave against the Israeli occupation at the UN Security Council.

Bitan's initiative is not only unconstitutional, it is also populistic and sends the message of national weakness, hysteria, contempt towards freedom of speech, and an elementary lack of understanding of the democratic process.

Israeli law determines that one of the grounds on which citizenship can be revoked is if the citizen committed an act that constitutes a "breach of trust" towards the state. This violation is defined as an act of terrorism under the Prohibition on Terrorist Financing Law, an act of treason or an act of espionage under certain articles in the penal code or the acquisition of citizenship or permanent residence in an enemy state or in the Gaza Strip.

The Knesset limited the authority to revoke citizenship by taking it away from a political figure (the interior minister) and giving it to the district court, pending the approval of the attorney general.

El-Ad's remarks may be contentious, but are not criminal in nature. There are those who see his remarks as a model of good citizenship and concern for the future of the country, those who see it as defamation against the state, and those who have no views on the matter.

Bitan lives in a country that prides itself on its freedom of expression; the Supreme Court defined that freedom as a super-constitutional right. The beautiful thing about the freedom of expression is the great leeway it provides for citizens in exercising it, so long as they don't directly bring about violence.

Even though the right to citizenship is not enshrined in Israel's basic laws, it is considered such a right because it serves as the basis for the right to vote, which is in fact a constitutional right.

And finally, for MK Bitan's information: Israel's Supreme Court rejected a petition seeking to revoke the citizenship of Yigal Amir, the murderer of prime minister Yizhak Rabin.