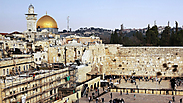 Temple Mount
Photo: Gettyimages
After UNESCO officially adopted the controversial resolution last week that disregards the Jewish connection to its holy sites in Jerusalem, its World Heritage Committee is to vote at 10am on Wednesday on another draft resolution that similarly ignores the Jewish link to its holiest site.

The new draft resolution brings a series of condemnations against Israel and claims that the Jewish state is damaging holy sites and freedom of religion. All the sites in Jerusalem's Old City are referred to solely by their Muslim appellations, just as last week's resolution by the UN's cultural and educational agency did.

In recent days, the Israeli Ministry of Foreign Affairs has acted to achieve the support of the 21 countries to vote against the expected condemnations, but sources in Jerusalem say that the results are already clear, and the committee will almost certainly pass the draft resolution against Israel.

According to those same sources, the reason for this is that "troublesome" composition of UNESCO's World Heritage Committee. Countries like Germany, Colombia and Japan, who were part of the committee last year, left and have been replaced by notoriously anti-Israeli countries like Kuwait, Lebanon and Indonesia.

Prime Minister Benjamin Netanyahu addressed the scheduled vote and said, "This is the continuation of the theatre of the absurd. Who's really deserving of condemnation is UNESCO's World Heritage Committee, not Israel."

The Democratic candidate for the US presidency and former secretary of state, Hillary Clinton, also criticized Wednesday's planned vote, saying. "It is disappointing and wrong to see that UNESCO's World Heritage Committee is considering a resolution on Jerusalem that fails to recognize and respect the deep and historic ties of the Jewish people to Jerusalem and its holy sites. Tomorrow's planned vote follows an outrageous UNESCO vote last week on a similar resolution. I have always stood with Israel to reject these biased actions at the United Nations, and I always will."