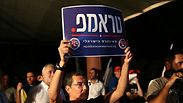 'Trump' in Hebrew
Photo: Ohad Zwigenberg
Trump, Pence deliver warm regards for Republicans in Israel
Watch: US Republican presidential candidate Donald Trump and running mate Mike Pence issue videos for an event held by Republicans Overseas Israel; while Trump spoke about the US-Israeli bond, Pence described in heartfelt sentiment his high regard for the State of Israel, while referring to Jerusalem as 'the eternal home of the Jewish people.'
As the US presidential race draws to a heated close, Republicans and Democrats are working to ensure that every vote that might be cast in their favor, will indeed be cast. As such, Republican candidate Donald Trump and his running mate Mike Pence each issued messages of their support of Israel and the Jewish people, aimed in part at US Republicans currently residing in Israel.The videos were broadcast for members of Republicans Overseas Israel, which held an event in Jerusalem on Wednesday.
"I love Israel and honor and respect the Jewish faith and tradition, and it's important that we have a president who feels the same way," Trump can be heard saying in the video. "For me, respect and reverence for Judaism is personal: My daughter Ivanka and my son-in-law Jared are raising their children in the Jewish faith, always reminding me the import values and lessons we learn about leadership, resolve and family Jewish traditions."
Trump's message
Trump continued by saying, "My administration will stand side by side with the Jewish people and Israel's leaders to continue strengthening the bridges that connect not only Jewish Americans and Israelis, but also all Americans and Israelis. Together we will stand up to the enemies like Iran, bent on destroying Israel and her people. Together we will make America and Israel safe again."
Republican vice presidential nominee Mike Pence similarly offered his blessings to Israel, in a particularly warm video.
"It's a great honor for Donald Trump and I to stand with you tonight in support of Israel," said Pence, who called Jerusalem "the eternal home of the Jewish people." He stressed that "Donald Trump and I stand with Israel, because Israel's fight is our fight, because Israel's cause is our cause."
"We stand with Israel because her cause is just," continued Pence. "Because her values are our values, and because her fate is our fate. Israel is not just our strongest ally in the region; as I've said for many years, Israel is our most cherished ally in the world. Currently, Israel lives under the ominous shadows of a threatening neighbor who seeks to wipe her off the face of the earth. And yet Donald Trump and I understand that Israel is not hated by her enemies for what she does wrong, but what she does right."
"As Israel shows the world how to turn scarcity into plenty, sickness into health, poverty into wealth, as Israel takes the curses, the slanders and lies of the world and turns them into blessings, the real question is how can any good person not stand with Israel."
Pence concluded his address by saying, "Donald Trump and I are proud to stand with Israel, the American people are proud to stand with Israel, and should Donald Trump and I should have the privilege of serving this great nation, if the world knows nothing else, the world will know this: America stands with Israel."