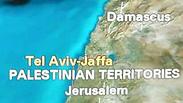 Screenshot of flight multimedia screen
The Chinese airline, Hainan Airlines, which began operating in Israel half a year ago has come under scrutiny for marking Israel on its multimedia flight system as "Palestinian Territories."
Israeli passengers aboard the Tel-Aviv-bound plane from Beijing were shocked to discover that the word "Israel" was nowhere to be seen on the map.
The screens, which were photographed on a flight which landed on Tuesday in Ben Gurion Airport, display Syria, Cyprus and Lebanon but only Tel Aviv and Jerusalem appear on the map while Israel is clearly omitted
The Chinese airline conducts multiple flights in the Middle East but only to Ben Gurion Airport, making the decision to remove the word "Israel" from the map all the more bewildering.
"The flight was wonderful with great service. The aircraft is new and its crew were extremely professional," Ynet heard from Lior Peleg, the CEO of a tourism company and the former director general of the Nazareth Municipality, who returned to Israel on the Hainan flight.
"Much to my dismay and surprise, I realized that on the multimedia screens on the plane, the State of Israel was not there. There is a feeling that this is a blow to Israeli sovereignty as the destination of the plane is Tel Aviv."
Peleg, who frequently travels to China, noted that failure to feature Israel on the map also offends Chinese tourists who land in the "Palestinian Territories" on a flight headed for Israel.
An official from the airline said that the incident occurred as a result of a technical error and that when the plane flew over Israeli territory, the map updated itself with the appropriate correction.
The airline released a statement apologizing for the embarrassment and for any offence caused to Israelis and Chinese tourists alike. "We are grateful that this technical error was brought to our attention. The airline is working to correct the map...It should be noted that Israel clearly appears on the close-up map. We will continue to work to promote Israel as tourist destination in China as we have proudly done so the whole time," the statement read.
At the end of last April, the first Hainan Airlines commercial flight landed in Ben Gurion Airport which was accompanied by a welcoming ceremony attended by Tourism Minister Yariv Levin, Transport Minister Yisrael Katz and the Israeli Ambassador to China Matan Vilnai. The airline currently operates three Tel Aviv-Beijing flights per week which will soon be increased to four. The airline is also considering introducing other flights from Israel in the future.