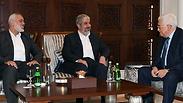 Abbas and the heads of Hamas
Palestinian Authority Chairman Mahmoud Abbas headed for the Qatari capital of Doha for a meeting with Hamas Chief Khaled Mashal and Hamas leader in Gaza Ismail Haniyeh on Thursday. The meeting was held during an official visit by Abbas to the Gulf state.

The three held a business lunch together under the auspices of the Qatari Foreign Minister. The meeting took place despite repeated denials by high ranking Fatah officials that it would happen. The officials also said that there would be no renewal of Hamas-Fatah reconciliation talks.

The Palestinian President's Office sent a very carefully worded announcement regarding the meeting. The statement said that Abbas spoke in a meeting in which both Mashal and Haniyeh were present, and that the meeting was held under the framework of a business luncheon held by the Qatari Foreign Minister.

The message continued by saying that the meeting was conducted to the chagrin of Mahmoud Abbas, and insinuated that the meeting was held due to pressure put upon him by the Qatari government.

Abbas didn't say anything groundbreaking in the meeting, but said that the reconciliation process between the two Palestinian groups, and the need to eliminate the divisions between Gaza and the West Bank.

The two sides agreed that they must restart reconciliation talks, and that the talks should be mediated by Qatar.

Despite the lofty words, the chance that there will be a breakthrough in reconciliation talks is slim at best, primarily because Abbas has little to no interest in reconciling. The tensions between the two Palestinian political parties are at a peak, especially after Abbas cancelled the municipal elections which were to be held in the West Bank. Hamas was due to participate in the elections for the first time in a decade, and was slated to win nearly all of the local council elections.

Fatah is also furious that Hamas took it upon itself to reject the lists of Fatah officials who were to run in the Gaza Strip.