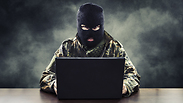 Illustration photo
Photo: Shutterstock
State Comptroller report: Israel unprepared for cyber attacks
The newly published report draws attention to a plethora of deficiencies in Israeli sectors intimately affecting the lives of millions; report includes, inter alia, shortfalls in postal services, road safety and apparent governmental lethargy in countering cyber attacks.
A new report published on Tuesday by State Comptroller Yosef Shapira addressed multiple flaws in a myriad of Israeli sectors ranging from the country's inability to meet postal service requirements to the state's apparent lethargy in preparing to counter cyber attack threats.

Indeed, one section of the report noted the state's apparent lackadaisical attitude toward implementing counter-measures against civil cyber threats, except for in a few areas and sectors such as critical state infrastructures.

The report's conclusions raise concern given that cyber attacks across the world are not only marked by a stark increase in numbers but also by their increasing complexity. Only two weeks ago, for example, a cyber attack left a number of American internet servers completely paralyzed and put various online service giants out of service such as Netflix and Twitter.

The report also deals with the Israel Postal Company and a plethora of deficiencies which ultimately affect millions of customers.

In addition to the insufficient infrastructure in local post offices such as the delays in packages to customers, the disappearance of items and general disorder in a number of branches—facts to which attention has already been thoroughly drawn in the media and in previous reports—the comptroller has now highlighted overall shortcomings in the logistical apparatus in the postal services which is responsible for disruptions during the delivery process.

According to the report, despite a steep rise in the number of deliveries arriving to Israel which was noted already in 2012, there is still no reliable system by which parcels can be tracked.

Moreover, severe logistical deficiencies in the main postal sorting house in Tel Aviv, which consists of nine floors, also means that the services are seriously ill-prepared to cope with the high influx of items from overseas.

The inadequate storage space, for example, is underscored by the fact that during busy periods deliveries are stored in office corridors and workers are often required to carry heavy bags a number of times per day. No alternative sorting house has yet to be built to remedy the burden despite attention being drawn to the issue in 2004.

Contained in Shapira's report was also the failure of many drivers on Israel's roads to purchase car insurance. According to the statistics cited, in 2014, 15% of the 3 million vehicles travelling on the roads were not covered by mandatory insurance for more than two months. In real figures, this means that 461,070 vehicles were not insured.

In a report issued by Shapira last week, substantial criticism was levelled against several political parties. The report issued fines on several accounts, including political party members and leaders' participation in false bookkeeping, receiving illicit contributions and submitting fictitious travel expenses during the last elections and Knesset session.

Right-wing nationalist party Bayit Yehudi was fined the highest, with NIS 1 million for its conduct over the last three years in the Knesset, and an additional NIS 850,000 for its conduct during the last elections season. State Comptroller Yosef Shapira stressed that "Bayit Yehudi did not include the full extent of its expenses in its accounts, including only improper expenses."

Meirav Crystal, Elitsafan Rosenberg, Yaron Druckman and Yuval Karni contributed to this story.