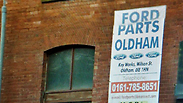 British garage refuses to sell to Israeli: 'Israel is the same as ISIS'
When Jack de Lowe tried to purchase a wing mirror from a garage in Oldham presenting itself as a Ford representative, the business owner proudly stated his refusal to recognize Israel or conduct business with anyone affiliated with the country; 'Children are getting killed there on a daily basis. We don't recognize the state of Israel.'
An English car garage presenting itself as a representative of Ford Motor Company refused to sell a mirror to an Israeli resident on the grounds that "Israel kills innocent children."

Jack de Lowe wanted to purchase a wing-mirror for his Ford Focus and managed to locate a garage located in the Greater Manchester city of Oldham—Ford Parts Oldham. Despite living thousands of miles away from the garage, he believed he had found the best price.

After sending an email to the garage to inquire about the price, which he expected to be around 40 pounds for the mirror and postage costs, he was shocked to be quoted an extortionate price of 1,025 pounds.

Telephone conversation recorded with owner: 'We don't recognize Israel'

Seeking clarification, de Lowe sent a follow-up email only to receive an unsigned response informing him that the garage refused to conduct any business with him due to his residency in Israel.

"As we do not recognise the state of Israel we do not ship to such non-existent countries. However delivery to Palestine can be arranged at a sensible price," the email read.

The news site HEATSTREET called the garage in order to confirm that the email was authentic and that it had indeed been sent by its representatives.

During a recorded telephone conversation, the manager and owner of the business, Mursal Israr, proudly admitted he had personally written and sent the email, insisting that he did not recognize Israel and had no interest in doing business with any person or institution affiliated with the country.

"I sent the email myself. Yes I did...We don't recognize the state of Israel. We don't believe in the illegal occupation of what's going on in there," Israr said. "And there's innocent Muslims and people are getting killed there on a daily basis so we don't wish to do any business with the state of Israel whatsoever because we don't recognise the state of Israel."

When it was pointed out that de Lowe was not a representative of the State of Israel and that he simply lived there, the argument fell on deaf ears.

"Regardless of the matter. He shouldn't live there then. The children that are getting killed there on a daily basis are just individuals that live there. They have no reason to be slaughtered and murdered in the unjust way that they are. "

After reiterating his refusal to conduct business with Israel, Israr compared the country to ISIS. "We wouldn't business with ISIS, we wouldn't business with Israel. They're the same thing."

A spokesperson from Ford responded to the incident, pointing out that the garage was not an official franchisee of the company and is in now way affiliated with it. It also added that the company's legal teams were looking into whether Israr had been using the name 'Ford' for his garage without the required permission.