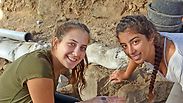 Students during the dig
Photo: Gilad Zinmon
Students in an Upper Galilee military preparatory academy found a gold coin dating to the early Islamic period from the years 776-777 CE which bears an Arabic inscription declaring belief in one god and the name of the prophet Mohammad.

"While collecting soil, I noticed a shining coin," said student Dor Yegev. "When I realized what it was, I just started yelling and we all got excited!"

The thrill of discovery ( צילום: עומר זידאן, באדיבות רשות העתיקות)

In recent weeks, the Israel Antiquities Authority (IAA), together with students of military preparatory academies, have begun digging at a site that is going to be turned into a parking area for heavy vehicles near Kfar Kama.

According to the director of the excavation Omer Zidan of the IAA, "The coins were found in remains of buildings from the seventh and eighth century CE together with fragments of pottery, metal objects and animal bones. All of this tells the story of life that was active here in the early Islamic period."

Dr. Robert Cole, an expert on ancient coins at the IAA, explained that "The excitement of the findings isn't just for the students, but also archeologists. It is rare to find a lone gold coin during an excavation. People usually kept gold in their possession and it passed through the generations. When we find gold coins in an excavation, they're usually hidden in a cache in an orderly fashion. A gold coin such as this, for a simple man, was a lot of money."

Further excavations that were conducted in and around Kfar Kama in the last 50 years indicate the existence of ancient settlements already in place during the Middle Bronze Age (2,000 BC) and during the Roman and Byzantine periods (2nd-6th century CE), including the remains of a church.