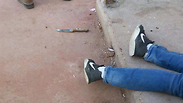 Terrorist sprawled on the floor (Photo: Ofra Youth)
A terrorist who attempted to carry out a stabbing attack at the Ofra Interchange on Thursday afternoon was shot and killed by security personnel stationed nearby.

The incident took place at a bus stop on Route 60 at the entrance to the Israeli settlement located in the northern West Bank.

The terrorist approached the bus station on foot before producing a knife and attempting to stab IDF soldiers from the Netzah Yehuda regiment guarding the area. They immediately opened fire on the terrorist who was initially reported neutralized and then confirmed dead.

No injuries were reported in the attack, which also occurred near the site at which a vehicular and stabbing attack was attempted last Saturday.

The attack comes three days after a Palestinian policeman opened fire at a checkpoint at the entrance to Ramallah on Monday afternoon, wounding three IDF soldiers. He too was shot dead by troops from the Paratroopers Brigade's 202nd Battalion, which is deployed at the area.