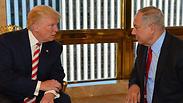 Trump and Netanyahu meet in New York
Photo: Kobi Gideon/GPO
After congratulating the US president-elected with a video message, Prime Minister Benjamin Netanyahu also called Donald Trump on Wednesday.

Calling Trump a "true friend of the State of Israel," Netanyahu told Trump that the United States has no better ally than Israel, while the newly elected American president invited the Israeli leader to Washington for a meeting at the earliest opportunity.

Netanyahu said that he believes the two leaders "will continue to strengthen the unique alliance between our two countries and bring it to ever greater heights."

A statement from the Prime Minister's Office said the conversation between the two leaders, who know each other for many years, was warm and friendly, and that the two also discussed regional issues.

In a video the prime minister posted earlier in the day, he congratulated Trump for his victory over Democrat Hillary Clinton.

Netanyahu congratulates President-elect Trump (לעמ)

"President-elect Trump, my friend, congratulations on being elected president of the United States of America," Netanyahu began. "You are a great friend of Israel. Over the years, you've expressed your support consistently, and I deeply appreciate it."

"I look forward to working with you to advance security, prosperity and peace," the prime minister continued. "Israel is grateful for the broad support it enjoys among the American people. I am confident that the two of us, working closely together, will bring the great alliance between our two countries to even greater heights."

Israel's President Reuven Rivlin also joined the chorus of congratulations on Wednesday.

"I want to congratulate President elect Donald Trump, his family, and all the American people who have once again showed the world it is the greatest democracy," Rivlin said in a statement.

"There are many challenges that lie before you as president - at home and around the world. Israel, your greatest ally, stands by you as your friend and partner in turning those challenges into opportunities," the Israeli president added.

"I hope together Israelis and Americans can grow our innovation and cooperation, which are the fruits of liberty, and equality. God bless you Mr. President," Rivlin concluded.