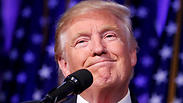 Trump. No intimidations, no insults
Photo: Reuters
The new, level-headed Trump
Analysis: Forget about the election campaign's provocateur and chatterbox. The US president-elect's victory speech made it clear that he feels the full weight of responsibility hanging on his shoulders. So in what direction does he plan to navigate America, and where do Israel and the Palestinians come in?
Donald Trump, the US president-elect who got on stage to deliver his victory speech, was not the Donald Trump we got to know in the election campaign. One could clearly see from the serious look on his face, and even from his body language, that he could feel the full weight of responsibility hanging on his shoulders.

It is, undoubtedly, an encouraging sign that the uninhibited and provocateur and chatterbox from the campaign realizes that there was a difference between what can be done to gain the votes of the people in the United States and their actual management on a day-to-day basis; and not just managing them, but bringing about a dramatic change for the better in their situation.

White America wanted a change at all costs, possibly as a reaction to the election of black, liberal President Barack Obama and what it symbolizes, and thus did not vote for Hillary Clinton. Trump promised a revolution, without elaborating, and that was enough for them to forgive him for everything and vote for him against any political-governmental logic.

Trump must have realized that in order to gain votes one must intimidate, offend and convey hate. This is a language which most voters in the US, and in Israel too, understand very well and respond to like a terrified child running into the arms of the adult who promises to defend him or her. But in order to govern, and to lead people to the better future that they expect, they must be presented with a positive agenda that creates hope. Trump's victory speech, therefore, focused on a vision, on a promise for a better future.

Trump's victory speech

Unlike the campaign speeches, the president-elect's first speech was completely free of intimidations, insults, lies and blood libels. Like a responsible leader of a large nation, he stressed his desire to reunite the people and be everyone's president, including those who voted for Clinton. He reiterated his promise that he would be everyone's president with the clear intention of alleviating the fears of blacks, Hispanics, the LGBT community, Muslims and even Jews, who were put on defensive alert by his election.

Trump's victory speech also cleared some of the uncertainty that still surrounds the plans he intends to implement during his presidency and his future policy. Assuming, of course, that he does have plans and he does have a future policy, and that is not all certain. It is quite likely that Trump and his advisors are just beginning to shape them, with the help of the serious people who have gathered around him: Rudy Giuliani, for example, Vice President-elect Mike Pence, Governor Chris Christie and others. In addition, in the initial stages, Trump will rely on the staff of the last Republican president, George W. Bush, in shaping his government and policy.

In his first speech as the elected president, he provided a "taste" of the directions in which he plans to navigate the American ship. As always, he did it with very few explicit words and mostly with hints which he will be able to shirk later on. For example, he stressed time and again that he is the head of a "movement," not a party or a political body – a hint towards his future relations with Congress. In other words, with "Washington," the hated political establishment. There may be a Republican majority in both Houses of Congress, but Trump doesn't even trust his own party, so he is reminding Congress that it must cooperate with him, or he will stir up the "movement," the nonparliamentary independent power base which accepts his authority.

In the economic field, Trump made it clear that he plans to multiply the growth rates through massive reconstruction and development of national infrastructures: roads, bridges (half of which are unusable across the US as a result of neglect and lack of investment), electricity, water, etc. Investing in infrastructures requires a lot of manpower and resources and is definitely, according to many economists, an engine for growth and increasing employment. The question is from where will Trump bring the huge budgets required for such a major project across the US.

The president-elect implied indirectly that he does not plan to dissolve the welfare services system and the transfer payments, as he had threatened to do in the campaign, but he does plan to give it a new emphasis and direction which will compensate those who voted for him, members of the middle class and lower-middle class, which is mostly comprised of white people but also of Hispanics and blacks who join the armed forces (there is no compulsory military service in the US, and the soldiers are in fact salaried employees of the state for all intents and purposes).

He promised to expand the social welfare system spread out under this neglected sector. He will make sure to rehabilitate army veterans who served their country in the wars and demonstrated a patriotic spirit, and should therefore be rewarded. This means that from now on, the leading criteria for receiving welfare aid in the US is not belonging to weak social-economic populations, but a person's contribution and sacrifice to the nation so that "American will become great again."

As for foreign relations, it was clear from Trump's speech that he is aware of the fact that most world leaders see him as an unexpected and unstable person and are afraid of any reckless and irresponsible conduct on his part. He calmed them down by saying that as president, he would honor and continue understandings and agreements – not necessarily contracts – that the US is committed to today.

He did clarify, however, that his administration's future foreign relations would be based on interests and on "deals" that would serve those same interests, rather than on ideological motives (like in the Obama era). What he apparently meant was that during his era there would be more give-and-take deals, which would provide the US and its citizens with "the best they deserve," and that he would focus much less on the ambition to impose democracy and human rights in the world.

Trump went on to stress traditional family values. He did it in a sophisticated way. Not explicitly, but in the extensive part of his speech in which he mentioned each member of his family by his or her name and thanked them, starting with his deceased parents through his children to his siblings. In this demonstration of cohesion, commitment and dedication to tradition, trump brought the conservative and ultra-conservative Republican establishment closer, as well as the white people in the rural areas and the Christian-evangelical establishment. He won thanks to them and he knows he will need them later on too.
Israel, Iran and the Palestinians
Trump will likely try to reach a "deal" with Russian President Vladimir Putin, somewhat at the expense of the NATO alliance. The US will no longer press to expand it towards other countries in Eastern Europe, and will even delay the deployment of an anti-missile defense system on Russia's border.

The full price of the future change in the American policy will be paid by Ukraine and the rebels in Syria. Trump and the Russians will agree to fight the Islamic State together, but Trump will let the Russians help Bashar Assad win. This means that the radical Shiite axis led by Iran, with Russian aid and defense, will tighten its grip and its strategic abilities in the Middle East in general and in what is called "the Shiite spectrum" in particular. This is very bad for the State of Israel and it is also bad for the Arab Gulf states (which supported Clinton).

As for Iran, it's quite unlikely that Trump will cancel the nuclear agreement it signed with the Obama administration. So what if he promised to do so during the campaign? An American president cannot cancel an agreement which was ratified by Congress by mere words. It is possible, on the other hand, that Trump will accept Israel's requests to tighten the intelligence supervision on Iran and to respond to any violation on its part with serious sanctions. Trump will also generously accept Israel's arming requests so that the IDF would be able to respond with all its might in case Iran makes a breakthrough towards a nuclear bomb.

As for the Israeli-Palestinian conflict, the two-state-for-two-people formula will likely enter a deep freeze for a long time. Trump will probably not try to impose any solution on the two sides or even peace negotiations, not to mention a solution based mainly on Israeli concessions. The combination between the current Israeli government and the Trump administration in Washington will likely lead to a deep freeze in the talks with the Palestinians, as opposed to – or perhaps because of – the tireless efforts made by former American presidents on the issue. We should remember, however, that a stalemate in the peace process may lead to a violent outbreak in the Israeli-Palestinian arena, a major bloody outbreak which we should prepare of.

On this historical day, in which a very unexpected and nonconventional person was elected as the 45th president of the United States, we should expand our gaze. Even those who see Israel's interest as their top priority should know that the really important thing is what kind of president will Trump be for America and for the Americans. A good president who will strengthen and advance our protective world power is also a president who will strengthens and advance us – and the other way around.