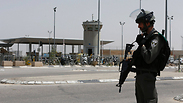 Qalandiya Checkpoint
Photo: AFP
A Palestinian armed with a knife was shot on Tuesday morning after he tried to stab a police officer at Qalandiya Checkpoint.

According to a statement by the police, the terrorist approached his target in a pass intended for vehicles only while brandishing a knife before being shot. No other injuries were reported.

The incident is the first to have taken place in two-and-a-half weeks when a terrorist attempted to stab an IDF soldier attempted to carry out a stabbing attack at the Ofra Interchange on Thursday before being shot and killed by security personnel stationed nearby.

Just days before, a terrorist attempted to run over and stab soldiers near a checkpoint in Ofra near. No IDF forces were injured in the attack. The terrorist was shot and seriously wounded.