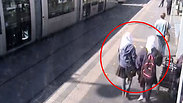 The two girls searching for victims
Palestinian teen who committed scissors attack in Jerusalem gets 13.5 years in jail
16-year-old Palestinian girl along with 14-year-old friend stabbed a 70-year-old Palestinian man in Jerusalem a year ago, likely mistaking him for an Israeli Jew; judges hand out harsh punishment, noting 'it appears the offense was committed against a backdrop of murderous ideology that is widely spread, like poison.'
A 17-year-old Palestinian girl, who was convicted of attempted murder after stabbing two people with scissors in Jerusalem, was sentenced on Wednesday to 13 and a half years' imprisonment—exactly one year after the attack.

The Palestinian teenager, who was 16 at the time, lightly wounded a young Jewish man and a 70-year-old Palestinian man from Bethlehem, who she had likely mistaken for an Israeli Jew.

A police bomb disposal expert shot and seriously wounded the attacker and killed her accomplice, a 14-year-old Palestinian girl.

The three-judge panel noted that "in this incident, as is the case in many other terror attacks, the offense was committed for nationalistic and radical ideological reasons. According to the defendant, she and her friend decided to stab a Jew for being a Jew. It appears the offense was committed against a backdrop of murderous ideology that is widely spread, like poison, in different forms of wild incitement."

The judges argued that despite the fact the defendant is a minor, "in light of the severity of the offense of attempted murder, its circumstances and its results—it is only appropriate to take a hard line in her sentencing and condemn her to a long imprisonment."

CCTV footage showing the attack

The prosecutor, Yifat Geffen, said following the verdict that "the defendant committed the acts in the midst of the wave of terrorism, and as a result several passersby were wounded—some from fire opened at the attackers in order to neutralize them."

The two attackers searching for victims

Geffen added that "the prosecution believes that due to the young age of many of the defendants in this wave of terrorism, there is no choice but to hand out long sentences to those who take part in attacks against innocent people—even if they are minors."