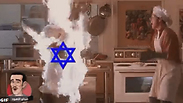 The hashtag "Israel is burning" or "the Zionist entity is burning" has become one of the top trends on Arab media over the past 24 hours, with countless of people gloating over the recent rash of fire plaguing Israel over the past three days.

"They tried to ban the muezzin's call, and Allah rained fire on them," Hamas official Izzat al-Risheq tweeted.

Other Hamas social media pages have posted videos of songs rejoicing about the fires, like one called "Catching Fire."

Some people posted their hopes that the fires would reach strategic facilities in Israel, like the Haifa Chemicals plants, gas storage facilities across the country, and IDF bases that have large arms depots.

One wrote, "All of Israel's neighbors must aid it—I suggest they send planes filled with gasoline and rain it down on the burning areas. I want to inhale the smell of barbecue from the Zionists."

A publicist from Gaza wrote: "The Russian planes that burn the Syrian bodies every day are now helping in putting out fires inside the occupied territories."

Another hoped: "God, add more fire to them until it is their end."

One of posters was the head of General Security in Dubai, Dhahi Khalfan Tamim, who headed the investigation into the assassination of Mahmoud Al-Mabhouh in a Dubai hotel room, which was attributed to Israel.

Khalfan Tamim wrote on his Twitter account: "Israel banned the muezzin and caught on fire. Blessed be God."

He also offered advice, "Israel has no choice but to agree to coexistence and peace with the Palestinians. It doesn't matter how much time passes, they (the Palestinians) will always come out on top. That is why treating them well is the best way forward for Israel."

Mishary Rashid Alafasy, a Kuwaiti imam, wrote on his Twitter account: "Best of luck to the fires :)" He later added: "Israel is burning and losing control. It is asking its allies for help after banning the muezzin prayer in occupied Palestine and in the holy sites that were robbed (May the heart of the faithful be purified)."

Later, Alafasy posted a map of fire-affected areas in Israel, noting "The fire is still burning in the Zionist entity."

Internet memes were also quick to appear. Egyptian news site Almogaz posted a meme showing one person telling another "Israel is burning," with the other responding "Great. No one in the world can stand it."

A satirical Twitter account posted a video of a fire with a Star of David instead, with a man jumping next to it and the writing "This is my situation now."