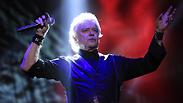 Air Supply in Tel Aviv
Photo: Yaron Brener
After being forced to postpone their concert in Haifa from Friday to Sunday because of the fires that plagued the city over the weekend, Air Supply are giving away 200 tickets to firemen's wives.

The firefighters' wives could get the tickets through the Haifa Fire Department's workers union by signing up and then presenting a fireman's ID at the box office.

Concert producer Dudi Berkowitz said, "This is a gesture to wives of firefighters, who went through incredibly difficult days and nights. We decided to give them an evening away from it all with some good music. I invite firemen's wives to come enjoy with us."

Air Supply perform in Tel Aviv (צילום: מתן טורקיה)

Air Supply returned to Israel last week and performed two of their three planned concerts—in Tel Aviv and in Jerusalem. The third concert was scheduled for Friday in Haifa, but the spate of fires in the city left the band and the production no choice but to postpone.