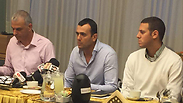 Kahlon in Haifa press conference
Compensation for fire damages hits snag
Due to the uncertainties in determining which fires were caused by arson or natural disasters, the issue of compensation for victims by either the government or insurance companies is now taking place; Kahlon: 'Everyone whose property was damaged will be compensated.'
Insurance companies will be required to share the costs of damages caused by the rash of fires which ravaged hundreds of apartments throughout Israel over the last week, despite the fact that Prime Minister Benjamin Netanyahu's recent comments linking most of the fires with terror-related arson attacks would have placed the onus on the state, Finance Minister Moshe Kahlon said during a press conference on Tuesday.
Netanyahu's Friday remarks, if proven correct, would essentially absolve insurance companies of responsibility for covering the extensive wreckage inflicted since damages caused by a natural brush fire are covered by insurance companies, while those caused by arson may fall under terrorism, making payment incumbent upon the government. Nevertheless, Kahlon indicated that this line of reasoning may be subject to change.
When it became clear that damages for people who would normally be recognized as victims of terror will cost the state between NIS 500-700 million, Minister of Finance Moshe Kahlon said "there is room to check how damaged property owners can be compensated."
Speaking in Haifa, the city hardest struck by the fires, Kahlon added that, "It is possible insurance companies will have to pay damages to their customers as well."
On Sunday morning, assessors from the Israel Tax Authority were sent to homes damaged by fire with the intention to cover damages that were caused by deliberate arson. However, on Sunday night, the Director of the Tax Authority and Head of the Capital Market, Insurance and Savings Department sent an urgent letter to insurance companies urging them to send representatives to assess damages and pay policy holders accordingly.
The Tax Authority promised to compensate insurances companies in cases where arson is proven.
Yesterday, the Knesset Finance Committee held a discussion in which confused MKs asked Shai Babad, the director general of the Ministry of Finance, "Who is compensating?" There was no clear answer, but both Babad and Kahlon assured the committee that "everyone whose property was damaged will be compensated."
However, until an accurate map detailing areas affected by arson is released, citizens don't know who to turn to for compensation.
In the event of damages incurred by arson, the state will provide compensation, but only for damage to structures, clothes, furniture, electricity and household appliances—and only up to a certain limit. Damages related to jewelry, musical instruments and artwork will not be covered.
By contrast, whoever insured their property through a private insurance company will be completely covered for all damages. However, insurance companies are not yet ready to compensate anyone until the exact causes of fires are established. Additionally, the fact that the state is supposed to be the body in charge of compensation for damage caused by natural disasters makes insurance companies even less willing to open their wallets.
The people most at risk of not getting compensated at all are those who did not have private insurance for their property that was damaged in a fire determined to be arson.
In an attempt to address this issue, Minister of Justice Ayelet Shaked ordered the Estates Committee from the Ministry of Justice to allocate funds to those who don't have private insurance coverage and are not eligible for compensation from the Tax Authority.
According to Shaked, "We will do everything we can to bring life back to normal and we will see that no one is left behind. Fire victims should be treated as sensitively as possible and with respect to the difficult situation, the country will stand by them until things return to normal."