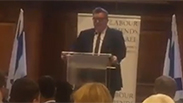 The UK Labour Party's deputy leader, Tom Watson, broke out singing Am Yisrael Chai ("The people of Israel live") on Tuesday at the annual Labour Friends of Israel (LFI) lunch, where he delivered an impassioned pro-Israel speech.

In his speech, Watson—who is not Jewish—spoke out against a number of issues including anti-Semitism Israel's security. He also proclaimed his categorical opposition to the Boycott, Divestment and Sanctions (BDS) Movement.

"Let me say something before we get any further today about taking on anti-Semitism in the Labour Party: That's a moral responsibility. I am ashamed that I am saying anti-Semitism and Labour in the same sentence," Watson said in his prepared remarks.

Tom Watson sings 'Am Yisrael Chai'

He also told his listeners of his determination to counter fallacious claims pertaining to Zionist-Nazi collaboration—a claim which gathered greater credence following comments made by former London Mayor Ken Livingstone.

"I will not be a bystander when the perpetrators of hate suggest that the founding fathers of the Jewish state collaborated with those who murdered six million Jews," he continued. "Let's have no more parallels drawn between today's tragic conflict in Israel-Palestine and the bloodlands of central and Eastern Europe.

"And let us never allow the myth to take root that the Holocaust wasn't a uniquely evil event that we should solemnly mark and ensure our children never forget," Watson said before segueing into a laconic encomium of what he described as Israel's "vibrant democracy."

"A state which strives for equality between men and women, Jew and Arab, gay and straight; A country with a fearless media; trade unions which battle unceasingly for a better deal for working people; and an independent judiciary which seeks to protect the powerless from the powerful," Watson listed as Israel's most notable attributes.

Turning his focus to the BDS Movement, Watson stated that those "those in this country who campaign for boycotts, divestment and sanctions seek to demonize and delegitimize the world's only Jewish state," and slammed it as a morally bankrupt organization.

"The BDS movement is morally wrong. It is failing. And it does nothing to advance the cause of peace or advance a two-state solution."

Finally, Watson assured his audience, "The security of Israel and the safety of its people are non-negotiable. We in the Labour Party stand by the people of Israel at this difficult time."

Watson last visited Israel as part of a tour in November organized by LFI.