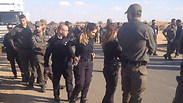 Police preparing for Amona evacuation
Photo: Ofra Youth
With the evacuation of Amona scheduled to take place by December 25, tensions among current residents of Amona and surrounding communities are running high.

On Wednesday night, Channel 10 released footage of a series of intense arguments between Amona residents and Yesha Council members during a meeting in Ofra, which is expected to receive evacuated families.

Amona residents arrived at the meeting in the hopes of finding a solution to their community, but the scene quickly descended into arguing after Amona residents discovered the meeting started without them. Residents accused the Yesha Council of working out a deal at their expense. One Amona resident commented, "I found out they are planning on building me a home next to a cemetery; it's aburd."

In addition to heated arguments with the Yesha Council, hundreds of young people from neighboring communities have come to Amona in recent days in preparation for the evacuation. Some even spray painted "there will be war over Amona" on a nearby greenhouse.

Police practicing Amona evacuation (צעירי עפרה)

Additionally, a message from residents has circulated urging people to come to Amona to protest the planned evacuation. People are even encouraged to arrive this weekend out of fear that roads will be blocked by police and security forces in preparation for the evacuation.

The message read: "The evacuation of Amona is underway. Everyone come now to Amona. According to all estimates, the evacuation will occur this weekend. Everyone is encouraged to come to Amona and stay here on Shabbat. The roads will be blocked—get here early. Bring warm clothes and come. Participate. Because we do not destroy Jewish settlements."

In preparation for protests, police and security forces are holding drills to practice the evacuation. Police forces are expected to make up the inner circle of security that will be responsible for the actual evacuation of residents, while IDF soldiers will be responsible for securing the outer perimeter near Ramallah.

The exact date of the evacuation is being kept secret in order to prevent protestors from causing a disturbance during the evacuation. Similarly, the area of Amona itself will be become a closed military zone in order to isolate the settlement in an attempt to keep out right-wing protestors.