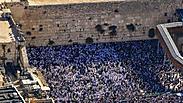 Western Wall Plaza
Photo: Israel Police
In November 2016, 287,900 tourists visited Israel—an increase of 38% from the preceding November and an all-time high for that month.

From January until November 2016, a total of 2.6 million tourists visited the country, which is an increase of 2% from the same period of 2015.

Minister of Tourism Yariv Levin said, "The intensive marketing efforts that we have invested in new countries like China and India, together with campaigns focused on the winter season, have resulted in record growth of the entrance of tourists to Israel in the month of November.

"Our goal is to continue with targeted campaigns to meet the challenge of creating a continuous increase in tourist traffic. This is proof of the huge potential in the tourism sector and the fact that we are leading innovative measures yields immediate significant results in the Israeli economy."

The minister added that revenues for the Israeli economy last month alone were over 1.5 billion shekels, some 400 million more than November 2015 and an amount nearly equal to the annual budget for tourism marketing to Israel.

November figures reflect an increase of 38% in tourism in relation to last year's November and a rise of 31% from that of 2014. Some 254,000 tourists visited Israel by plane in November, which is a rise of 38% from the preceding November and without change from November 2014.

Some 34,000 tourists entered the country by land, 28,000 of whom via Jordan and the rest via Egypt. These figures reflect increases from November 2015 by 38% and November 2014 by 10%. The number of day visitors last month was about 20,000, which is a decrease of about 20% from the two preceding Novembers.

The total number of tourists visiting Israel from January to November 2016 (2,651,400) also shows an increase of 2% in comparison to the same period of 2015 (2,602,300).