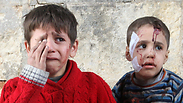 Wounded children in Aleppo, Syria
Photo: Reuters
Tears of hypocrisy
Op-ed: We can't prevent what is happening in Syria or in Somalia, but we can prevent a similar future in Israel. This bloodbath is the outcome of placing hostile populations within 'one state.' If it won't work between Muslims and Muslims, why does anyone think it can work between Jews and Arabs?
The world is hurting over the situation in Aleppo. Emotional articles and posts are being published here and there. Syrian President Bashar Assad and Hezbollah leader Hassan Nasrallah are extremely moved. They know that no one will lift a finger to help. Interior Minister Aryeh Deri has asked Prime Minister Benjamin Netanyahu to turn to the United Nations. Oh, come on.

US Ambassador to the UN Samantha Power delivered a firm and moving speech in a recent Security Council briefing. "Are you truly incapable of shame?" she asked. "Is there no execution of a child that gets under your skin?" She knows how to speak. There were even tears. Russian President Vladimir Putin and Iranian Supreme Leader Ali Khamenei were unmoved.

The massacre won't stop without action. And those who are getting all emotional, might I remind you, usually lead the camp that is against action. They lauded and praised US President Barack Obama for not intervening, even when it may have been possible to stop the bloodbath.

These emotions are the result of exposure to information. Because there are much greater tragedies occurring in other places as we speak. On the border between Nigeria, Chad, Niger and Cameroon, there are 1.4 million children who have become refugees, and 75,000 of them are on the verge of starvation. In Somalia, 200,000 have already died because the local jihad organization, al-Shabaab, has halted food deliveries, and 38,000 children under the age of five are in danger of starving. The Nigerians and Somalis' situation is much worse than the Syrians' situation. But they don't have any Internet access, and no one there has heard about social media. So no one is moved.

Only a week ago, 38 people were slaughtered in Istanbul, 25 Coptic people in Cairo, 48 in the Yemeni city of Aden, 56 in a busy market in Madagali, Nigeria, by two girls with explosive belts, and finally, 29 more in Mogadishu, Somalia. They were all killed by suicide bombers. Apart from Turkey, all these horrors have one thing in common: Global jihad. Most of these terror attacks were not mentioned by the world's leading media outlets. Who cares? If it happened in Helsinki, the world would go wild, and Sweden's foreign minister would say that it happened because of the occupation.

We can't prevent what is happening in Syria or in Somalia. We can prevent a similar future in Israel. We must remember that this huge bloodbath is the outcome, among other things, of hostile populations placed in a pressure cooker of "one state." If it won't work between Muslims and Muslims, why does anyone think it can work between Jews and Arabs?

The two-state formula is irrelevant considering the regional circumstances. Egypt, Saudi Arabia and Jordan don't want a Palestinian state either, as it will quickly turn into another jihadi base. The right wing is right about this, but the conclusion is not one state. There is a large range of possibilities between the two options. For example, "the commanders' outline," which includes both a demographic separation and ongoing security control.

One thing is clear: We should take a look at the mixture of populations in the Muslim arena. The Coptic people are not occupying anyone, but they are being persecuted and murdered. The Nigerians and the Somalis have done nothing wrong. Nonetheless, the local jihad branches are massacring them. The bloodbath and the horrors could reach Israel, as soon as the "one state" materializes here. The anti-Zionist left wants it. The anti-Zionist right is fulfilling it.

Here are a few of comments made by the racist right, which is rearing its head in the West: "The Arabs are a kingdom of evil… The Muslim behavior is the result of pure evil, sadistic evil, evil for the sake of evil… Peace activists who are cooperating with the Palestinians are selling their soul to the devil… The Muslims are behaving in an inhumane manner because they act out of a feeling of racial supremacy." I can go on. There is more. Is this racism? Of course it is.

And let's assume that these comments were made about Jews and/or about Israel rather than about Muslims. Could they be defined as anti-Semitism? Of course they could. Well, these things, almost word for word, have been written by Jews, mainly in Haaretz newspaper, against the Jews in Israel.

Earlier this month it was British Prime Minister Theresa May, who courageously announced that she was adopting the official anti-Semitism definition penned by the International Holocaust Remembrance Alliance (IHRA). These are some of the things included in that definition: "Denying the Jewish people their right to self-determination, e.g., by claiming that the existence of a State of Israel is a racist endeavor; applying double standards by requiring of it a behavior not expected or demanded of any other democratic nation; drawing comparisons of contemporary Israeli policy to that of the Nazis." And there is more.

The definition has undergone changes. It had already been submitted to the European Union in 2004. At first it was accepted, and then rejected, which was welcomed by the BDS campaign supporters. They know why. The definition clarifies what has already been known: It's an anti-Semitic campaign. The definition was later on accepted by different bodies, including the US State Department. After announcing the adoption of the definition, the BDS rushed to publish an article condemning the British prime minister.

American journalist Thomas Friedman, who cannot be suspected of overly sympathizing with the Israeli Right, wrote the following words: "Criticizing Israel is not anti-Semitic, and saying so is vile. But singling out Israel for opprobrium and international sanction – out of all proportion to any other party in the Middle East – is anti-Semitic, and not saying so is dishonest." This was written in 2002, when the anti-Israel demonization and boycotts were just beginning on US campuses. It still applies today.

The British prime minister has adopted the proper definition of anti-Semitism. She doesn't have to learn a thing from Israel. On the contrary, Israel has to learn from her.