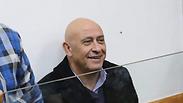 Ghattas arrives in court
Photo: Motti Kimchi
MK Ghattas's arrest extended until Monday
Judge agrees to extend his arrest on suspicion of phone smuggling to Palestinian prisoners in Israel; Judge: 'reasonable ground to believe that releasing the suspect could be harmful to public security'; MK Jamal Zahalka and MK Hanin Zoabi turn up to court in support of fellow party member.
A judge agreed to extend the arrest of MK Basel Ghattas until Monday on Friday morning after he spent his first night under arrest on suspicion of smuggling cellphones to Palestinian prisoners in Israel.
Appearing in Rishon LeZion Magistrate's Court he refused to divulge to Judge Menachem Mizrachi who provided him with the phones that he is believed to have smuggled to the prisoners, on the grounds that "he does not want to be a grass."
"There are reasonable ground to believe that releasing the suspect could be harmful to public security," Judge Mizrachi concluded in his assessment. However, as an MK, Ghattas will still be able to show up to vote in the Knesset.
MK Ghattas sits in court (צילום: מתן טורקיה)
Ghattas's defense attorney, Namir Adelbi criticized the decision, saying that his client claimed that "he has known Walid Daka for many years (one of the imprisoned terrorists responsible for the kidnapping and murder of IDF soldier Moshe Tamam in 1984—ed.) who asked him to bring books into the prison."
He went on to say, "This arrest comes at the heels of a period of inciting comments. He failed to maintain his right to remain silent, and agreed to relinquish his immunity."
The police listened in to telephone conversations between Ghattas and one of the prisoners shortly prior to the former's arrival for a visit in order to coordinate the meeting between the two.
Furthermore, Daka placed Ghattas in contact with a third party in order to receive the phones.
Fellow Joint List MKs Jamal Zahalka and MK Hanin Zoabi also showed up at the court to support the suspect, who is the first serving MK to spend night under arrest.
MK Basel Ghattas arrives in court
The decision to arrest Ghattas also came out of fear that he may attempt to flee the country despite a prohibition against such a move.
Police also justified the move, stating that any other individual suspected of similar crimes would also face arrest.
Police summoned Ghattas for questioning under caution for the second time on Thursday afternoon after Knesset Speaker Yuli Edelstein removed the Arab MK's parliamentary immunity earlier in the day.
Edelstein's decision was made a day after the Knesset's House Committee unanimously approved a request by Attorney General Avichai Mandelblit to strip MK Basel Ghattas (Joint List) of immunity afforded to all MKs.
He is facing charges of conspiring to commit a crime, fraud, breach of trust, and violations of Israel Prisons Service orders.
Phone smuggling into prisons is a crime in Israel which carries with it a prison sentence of up to ten years. Committing fraud and breach of trust can also result in a three-year sentence, meaning Ghattas could be facing a total of 13 years behind bars, if indeed an indictment is submitted against him and he is sentenced.
Public Security Minister Gilad Erdan commented on the arrest. "The police will act with determination to bring MK Ghattas to account for his actions," Erdan said. "Anyone who smuggles cellphones to murderers in prison understands perfectly well that their use can lead to terrorist activities and more murders which is why he is a danger to the public and he belongs in prison."
Ghattas's political party, Balad responded to the arrest and charges made against him. "Israel is choosing to worsen the situation against Arabs. This is an unprecedented step which is entirely unjustified," the statement read. "The arrest is an inseparable part of the pursuit against the political activities of Balad and other Arab political parties and movements.
"This is a vengeful and arbitrary arrest, because the police, (Prime Minister) Netanyahu and (Public Security) Minister Erdan want a photo of an Arab MK in handcuffs. The arrest is a political move and is not necessary to the investigation. Fairness obligates to treat an Arab public representative just like a Jewish one, and that is not the situation here."