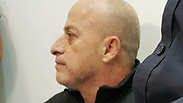 Assad Daka
Photo: Barel Efraim
Assad Daka, the brother of terrorist Walid Daka, was indicted on Sunday on the suspicion he provided MK Basel Ghattas (Joint List) with the cellphones the MK allegedly tried to smuggle to terrorists in prison.

According to the indictment, the 51-years-old Assad Daka met with Ghattas at a Dor Alon gas station along the northbound side of Highway 6 in the early morning hours of December 18, where he handed him four packages containing 12 cellphones, 16 SIM cards, two charges and an earpiece.

Later that day, at around 11:55am, Ghattas arrived at Ktzi'ot Prison with the packages and other documents hidden under his shirt. The prison's guards did not search him because of his position as a member of Knesset.

According to the indictment, Ghattas met at 12:12pm with the terrorist Walid Daka, who is serving a 31-year sentence for the murder of an IDF soldier. When the two were alone in the room, the MK handed the prisoner documents, which Walid then folded and put in his pants.

When Daka left the room, the prison's guards searched him and found the documents.

Later, at around 1:35pm, Ghattas met with Basel Bizra, a prisoner sentenced to 15 years for terror-related offenses. Bizra, a member of Fatah, used to serve as the speaker of the Fatah prisoners. Ghattas handed Bizra the packages with the phones, and the latter hid the envelopes in his pants.

When Bizra left the room, the prison's guards searched him and found the phones.

Assad Daka's lawyer said in response, "He didn't know he was delivering phones. He didn't know what he received in the packages."

The lawyer further stated there is no evidence that his client knew the content of the packages will be used in a manner endangering state security.

Assad Daka's remand was extended until Wednesday.

Ghattas, who was arrested after his parliamentary immunity was removed, was placed under house arrest for ten days last week after six days in police custody.

With Ghattas confined to his home, his lawyers asked that their client be permitted to participate in Knesset votes. A police official responded to the request in the affirmative, adding only that he would be required to be accompanied by police escorts.

Ghattas will also be required to personally pay NIS 50,000 as a guarantee that he will not violate the terms of his release. Furthermore, he will have to be escorted by four policemen both at home and when turning up for Knesset votes.

In addition, he is forbidden from exiting the country for the next six months.

Meanwhile, Ghattas's fellow MKs are trying to either have him suspended or deny him of his salary, state car and parliamentary budget.

When the news broke of the suspicions against Ghattas, Environmental Protection Minister Ze'ev Elkin began collecting signatures on a petition to suspend Ghattas. According to the Suspension Law, to begin the suspension process, the petition must include 70 MK signatures, 10 of them from members of the opposition. Later, a 90 MK majority will be required to approve the suspension.

Elkin secured over 60 signatures, but none of the members of Yesh Atid or the Zionist Union were willing to sign his petition.

But even if Elkin could get all 70 signatures, legal experts say the law does not apply to Ghattas, as he is not accused of incitement to racism or of aiding a terror organization in an armed conflict against Israel. The experts say that while Ghattas's offenses are grave, they do not constitute either of the two cases the law applies to.

Yesh Atid leader Yair Lapid, meanwhile, hoped to deny Ghattas of his pay by filing a complaint to the Knesset's Ethics Committee against the Joint List MK. The committee, which was due to meet on Monday to discuss Ghattas, was recently given the authority to revoke the salary of errant MKs, but not for more than two weeks.

Ghattas's trial is expected to last many months, and committee members will have to reconvene every two weeks under a new complaint and repeatedly vote to revoke his pay.

That too is unlikely, as such a decision requires a unanimous vote, while one of the committee's members is Yousef Jabareen, a fellow Joint List MK, who already stated he has no intention to vote in favor of denying Ghatta his salary, even though he does not approve of his actions.

So while prime ministers and ministers in a similar situation would lose all of their rights, Ghattas will continue making NIS 40,000 ($10,385) a month, collecting pension money and enjoying the services of a state car.