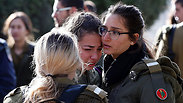 Soldiers at the scene of the attack
Photo: AFP
Cadet from Jerusalem attack: We fought for our friends
After a tour guide claims that soldiers hesitated to respond to terrorist due to concern that they would be put on trial like Elor Azaria, a cadet writes of witnessing the attack, stressing 'There is no connection to Elor Azaria' and that 'Nobody was scared to shoot for even one minute.'
An incensed IDF officer cadet who was present at the truck-ramming attack in Jerusalem on Sunday took to Facebook later that night to refute allegations that her fellow soldiers hesitated to fire for fear of prosecution.
The attack took place in the neighborhood of East Talpiot, also known as Armon Hanatziv, and resulted in the murder of four Israelis, the wounding of a further 17, and the death of the terrorist.
Earlier in the day, Eitan Rond, the tour guide of the group that was hit by the semitrailer, claimed the soldiers at the scene were not quick to open fire at the terrorist because of the manslaughter conviction of Sgt. Elor Azaria, who shot dead an incapacitated terrorist in Hebron.
"I'm certain that was a partial factor," said Rond. "Soldiers have been hearing for two and a half weeks now to be careful, careful, careful. It pains me to say it, but some of the more serious injuries here were caused by the truck backing up. If there would have been a few seconds less dawdling, we might have been in better shape now."
Rond's account (and assumption regarding what was going through the soldiers' minds) have since been refuted by several sources, including the IDF. His claims were also rejected by one of the cadets reported to have been present during the attack, who posted her own personal response to socia media. The post is translated in full below:
"I, unlike many of you, was at Armon Hanatziv.
"I am a cadet in the Erez Brigade on the Nahshon track—my friends were wounded, and some of them were even killed, and I have a request to ask of all of you.
"Please stop listening to sources that don't verify and immediately publish nonsense and distorted information.
"Please stop distributing opinions that are based on baseless lies.
"Please stop selling each other dime-store psychology on the subconscious that supposedly leaped into action when I saw a truck running over my friend, okay?
"There is no connection to Elor Azaria.
"No connection.
"None of you should dare compare a semitrailer travelling 100 km/h to a terrorist who is lying down, incapacitated.
"Nobody was scared to shoot for even one moment; people were scared of getting run over because there was a possessed terrorist with murder in his eyes.
"We ran towards the truck like crazy people. People there kept trying to make contact to the extent that they were scared that there would be friendly fire, and then went back down.
"The incident was handled in an extraordinary manner. It was only thanks to the cadets who made contact and neutralized the terrorist in less than a minute that a scenario of a much higher number of casualties was avoided.
"We are deaing with very hard feelings. Our friends were killed and wounded before our eyes. The least that you can do is not muddy our names with a lie, certainly not when we did the complete opposite.
"So the tour guide (without taking away from his honor and abilities) can say what he wants to news sites—but we fought for our friends."
Injured commander's mother: she grabbed her weapon and shot off 15 bullets
Yifat Peled Kaplan's daughter Lt. Maya Peled was commanding a group soldiers standing next to the semitrailer when the attack took place, and was lightly injured as a result. The senior Peled Kaplan shared what her daughter had told her of the event. "One second prior to the attack, my daughter went to get her coat from the (nearby) bus. She realized what was going on, grabbed her weapon and shot off 15 bullets toward the truck while standing on the bus steps."

"The first question I asked her was whether there was already an inquiry and whether she had followed the rules of engagement. She told me that the answer to both was yes," said Peled Kaplan.

"At first she was very mission-oriented. She texted me to say everything was okay and not to worry while she took care of the soldiers and whatever was needed to be done, including going through the inquiry." She added that now that her daughter has had more time to process the attack, "She's in trauma, she's crying a lot. The soldiers who were killed were under her command."

She said that while her daughter is recuperating, she is extremely upset over reports that soldiers held back from shooting at the terrorist. "Since soldiers were forbidden to give interviews, some tour guide who happened to be lying in the bed ended up saying that. She asked him how dare he say that no one opened fire, and he then apologized and said he would take it back."

Relaying what her daughter Maya had told her, Peled Kaplan completely refuted claims that the soldiers at the scene hesitated before firing at the attacker, for fear that they would be tried like Elor Azaria, who was found guilty of manslaughter by a military court last week. "My daughter is a highly trained soldier. She's currently serving in her second year beyond mandatory service after two years as an officers' course commander. She is familiar with the IDF's rules of engagement and knows when to shoot and when not to. I'm proud of her for shooting and not thinking twice. This has nothing to do with Elor's case. He shot a neutralized terrorist and my Maya fired at the right time, in real time, as was expected of her."

The mother added, "She should have gotten a phone call from Bibi, and not Elor Azaria. He should have called those who shot the terrorist instead of the parents of a guy who violated every possible IDF regulation."

Herzl Hajaj, whose daughter Shir was killed in the attack, wished to give a different message to Chief of Staff Gadi Eisenkot. Paraphrasing a common slogan among Elor Azaria supporters, who have dubbed him "Our boy," the senior Hajaj told reporters, "They are all of our kids. We send them to the army, and we know they might not return. But to tell you that I believed it would happen to me? Never."