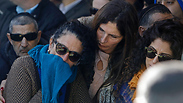 Funerals of the terror victims
Photo: AFP
Jerusalem terror attack victims laid to rest: 'We didn't get enough of you'
Erez Orbach, Shira Tzur, Shir Hajaj and Yael Yakutiel each accompanied on their final journey by hundreds of people; 'From now on, all your beauty will be robbed in the sadness of your song,' sister says in reference to Shir Hadad's name, which means 'song' in Hebrew.
The four IDF officers killed in the Jerusalem vehicular terror attack—Erez Orbach, Shira Tzur, Shir Hajaj and Yael Yakutiel—were laid to rest Monday.
Shir Hajaj
Hundreds of mourners gathered at Mt. Herzl for the funeral of Shir Hajaj, 22, from Ma'ale Adumim. Among the mourners were Chief Sephardic Rabbi Yitzhak Yosef and MKs Moti Yogev (Bayit Yehudi), Omer Bar-Lev (Zionist Union), Erel Margalit (Zionist Union) and Oren Hazan (Likud).
Throughout the funeral, there was nary a dry eye as Shir's mother cried out for her daughter upon seeing the casket brought out and placed in the ground.
"Our children are being killed and no one really cares," said Shir's father Herzl. "I guess we're not important enough, or well-connected enough." He added that "The politicians don't really see us, it's disappointing that no minister came. But we're a tight-knit family, and it warms the heart to see all the citizens who did not know Shir, more than any minister's visit."
"Shir, my sister, what a loss. I am so sorry. Where are you? I'm sorry you didn't get your life. What a good family we had. What a good childhood. From now on, all your beauty will be robbed in the sadness of your song," said her sister, Bar, in reference to Shir's name, which is the Hebrew word for "song."
Chief Rabbi of Jerusalem, Shlomo Moshe Amar, said, "How long, Lord? How long shall the wicked triumph? How long must we see such grief? How long must we see parents cry bitterly over tragedies perpetrated by the wicked who have no limit to their evil? How long, Lord?"
Yael Yakutiel
Hundreds also accompanied Yael Yakutiel of Givatayim, on her final journey. Family, friends and IDF personnel all gathered at the military section of the Givat Shaul cemetery for her funeral.
Her parents, Yaakov and Shelly, stood together while Yael's father eulogized his daughter. "There is no beginning, middle or end. We don't have enough of you. You were so loved. Your wonderful smile, love of life, love of others and the fun we had with you."
"You spoke fast and it was difficult to follow. You were funny, studious and good-natured. After you got angry, you would forgive. You thought a lot. We were only together for a short while, we didn't get enough of you. You were a teacher, a soldier, and wanted to do something meaningful in education. You took us on a tour of the Israel Museum in Jerusalem in order to practice the tour you would give to cadets. We didn't know that we had a daughter like you, we knew nothing."
Erez Orbach
Erez Orbach, 20, from Alon Shvut in Gush Etzion, was laid to rest in Kfar Etzion cemetery.
His grandfather Moshe said, "Erez had a health problem that precluded him from military service, but he didn't feel exempt. He fought to draft into the IDF and even though he was rejected by several committees, he stood his ground. In the last committee, he was asked why he was insisting on joining and he responded that it was his duty."
Rabbi Eitan Anbacher, a rabbi at the Yeshiva Erez studied in, told Ynet in an interview: "He was one of the students who, even if you had a bad morning, could change your mood for the better. He was very welcoming. Erez was a student that even today I still learn from."
Erez had spoken during a ceremony for IDF volunteers. He was quoted at his funeral as saying, "When I first drafted I didn't know how long of a journey I had in order to enlist. My fear was that I wouldn't be able to draft because of a rare illness. Despite my illness, I never saw myself different from others or privileged. I decided I won't give up. If the IDF won't draft me, I will volunteer."
Shira Tzur
Shira Tzur, 20, lived in the city of Haifa. She began her army serivce in pilots' course, before transfering to her final unit. Like Yakutiel and Orbach, she, too, was a cadet at officers' course.
Hundreds came to Shira's funeral for a final farewell. "Shirush, where are you? Why did you leave me?" her grandfather called out over her grave. "Who's going to call now and tell me, 'Grandpapy, how are you doing'?"
Her aunt described her way. "She was smart, sharp, no one could argue with her." Her uncle added that "Ever since she was little, she tried to change her environment and make it a better place. She tried to do the best way possible, and she managed it, too."