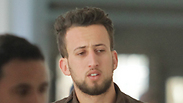 Mahmad Al-Qunbar
Photo: Gil Yohanan
Three brothers of Fadi Al-Qunbar, the terrorist who carried out the truck-ramming attack in Jerusalem on Sunday that killed four and wounded 17, had their arrest extended Monday evening by the Jerusalem Magistrate's Court on suspicion that they knew of their brother's murderous intentions and failed to do anything to prevent his attack.

The police are treating the suspects—Hamza (31), Muhammad (30) and Mahmad (28)—as potential conspirators to a crime.

In addition, the police arrested a worker of a construction material business and another resident of Jabel Mukaber, from whence the terrorist came, on the same suspicion.

Brother of Fadi Al-Qunbar

The arrest of another suspect who worked with Al-Qunbar in the building material business was also extended by seven days on similar suspicion.

Other suspects arrested in the case from the same family, including Al-Qunbar's sister and one of his brothers, were released on restrictive conditions after it became clear that suspicions against them were lower and did not warrant keeping them in custody.

After learning of her 28-year-old brother's having slain the soldiers in East Talpiot, also known as Armon Hanatziv, Al-Qunbar's sister commented, "Praise be to God that he became a martyr. It's the most beautiful martyrdom."

Consequently, the police decided that her statements constituted incitement to violence and terror. However, shortly after her arrest, a judge ruled to the contrary and ordered her release.

Another suspect arrested in the aftermath of the attack was the owner of the truck used to run over the soldiers, Mussa Saraf, who was also released.

During the investigation it emerged that he sold the truck to the terrorist a year ago even though the transaction was not carried out by way of a formal procedure, meaning that the police still had the vehicle registered under his name.

Earlier on Monday, the four IDF officers killed in the terror attack—Erez Orbach, Shira Tzur, Shir Hajaj and Yael Yakutiel—were laid to rest.