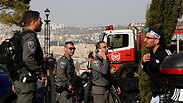 Scene of Sunday's terror attack in Jerusalem
Photo: Reuters
Preventing a vehicular attack is nearly impossible
Analysis: While the security forces are closely monitoring social media activities, arresting terrorists' relatives and seizing weapons, even the strictest measures cannot stop a lone-wolf terrorist from carrying out a deadly attack like the one that took place in Jerusalem on Sunday.
The tactical police activity being conducted in east Jerusalem for a long time now has led to a significant drop in the number of terror attacks. Even the strictest measures, however, are unable to prevent attacks like the one that took place in Jerusalem on Sunday and left four soldiers dead, as they do not require any organization.

The terrorist, a resident of the Jabel Mukaber neighborhood, was not known to the police, to the Shin Bet or to any other security services in regards to security-related offenses. All he had was a criminal record, and the Jerusalem Police believe that he acted of his own accord.

A vehicular attack with a truck does not require starting any organization or forming a terrorist cell, which might have left an intelligence mark. All the terrorist needed to carry out his plan was the heavy vehicle he had purchased about a year ago for work purposes, and to drive for a few minutes from his home in Jabel Mukaber.

The only thing that pointed to what the terrorist, 28-year-old Fadi al-Qunbar, was planning and could have helped identify his intentions earlier, are a few social media posts suggesting that he identifies with Islamic State messages.

That is precisely why one of the police and Shin Bet's most effective tools in locating potential lone-wolf terrorists is activity aimed at locating and monitoring social media posts, which could point to an intention to carry out an attack.
Public security minister vs. Facebook
Quite a few people have been detained in the past year after publishing inciting social media posts suggesting that they intend to carry out an attack. That is also the reason why Public Security Minister Gilad Erdan has waged a battle against Facebook in a bid to get the social network to help monitor the posts.

Another prevention measure is to create deterrence by prosecuting supportive family members and even associates who knew about the terrorist's intentions. In the past, this measure has motivated family members to turn their relatives in shortly before the planned attack. Those family members said that they had decided to "inform" on their relatives for fear of home demolitions or other sanctions. Many times, however, the terrorist does not share his intentions with anyone, making this measure quite limited.

On Sunday, the police arrested nine relatives and acquaintances of the Jerusalem terrorist. "Our working premise is that the terrorist decided to act in the heat of the moment, but we want to examine all the ties and see if there are other people who were aware of his act," Commander Haim Shmueli, head of the Kedem district in the Jerusalem Police, told Ynet on Monday.

The police officer, whose people are in charge of Jabel Mukaber and the East Talpiot Promenade, further noted that "the operations began immediately at the scene of the attack and continued at the terrorist's house. We went on to arrest family members who were in touch with him. Our operations lasted throughout the night, and this morning we were also prepared to enter the village and continue the enforcement activities."

As for the terrorist's social media posts, the commander noted that "in this case we specifically know that he was affiliated, according to social media posts, with the Islamic State. In another incident, his brother had also identified with them, but other family members were not known to us."

Another way that could further prevention is intelligence activity and thorough searches within the villages to locate weapons and rioters. This way often leads to people planning to carry out terror attacks, like the one that took place Sunday.

Addressing the activity conducted in the Jabel Mukaber area, which has generated several deadly attacks, Commander Shmueli noted that "this village is mainly affiliated with the radical organizations. Most of the time, there are no disturbances on the local level. It's usually terrorist cells that go out and carry attacks. It's very difficult to characterize it. It may be the connection to the Hebron area, with many families and clans that came from Hebron to live in the Jabel Mukaber area."

On Sunday, the police partially blocked roads leading to Jabel Mukaber. At the same time, they received a demand from residents of the East Talpiot area and Jerusalem Municipality officials to siege the village and conduct a strict security check on every person entering and leaving the village. Such a measure could prevent attacks involving weapons, but it is clearly unable to prevent an attack like the one that took place on Sunday.

Jabel Mukaber has 30,000 residents living near the west Jerusalem neighborhoods. They have Israeli IDs and work in those neighborhoods. Throughout the day, there is a lot of undisturbed traffic between Jabel Mukaber and the western neighborhoods of the city.

"Unfortunately, the terrorist who carried out the criminal attack was raised in a hotbed of incitement and terrorism, and the evidence is his sister's comments ('I thank God that he became a shahid') and the erection of a terror and incitement tent in the heart of Jabel Mukaber," said Maor Tzemach, chairman of the Lach Yerushalayim (For You, Jerusalem) organization. "I call on the security forces to expel the terrorist's nuclear family out of Jerusalem."

Despite the attempt made by the terrorist's family to set up a mourners' tent, Jerusalem District Police Commander Yoram Halevy ordered its dismantlement Monday morning. The police reported that "forces prevented the erection of a temporary structure to be used as a mourners' tent for the terrorist in a compound next to his house. The police are constantly engaging in reinforced operational activity in the city, which will continue as long as it is required."