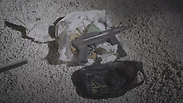 Illegal weapons
Photo: IDF Spokesperson's Unit
The IDF, Shin Bet and Israel Police are registering marked success in an intense crackdown over the last few months against clandestine Palestinian factories in which weapons are illegally manufactured, as cost of acquiring such weapons have soared since the operation's inception.

The activities have increased throughout the West Bank due to the rise in the number of terror attacks involving the use of guns, such as that which took place in Tel Aviv's popular Sarona Market in which four Israelis were murdered, along with many others.

While the majority of weapons that are produced in the West Bank are purchased for criminal purposes, the ease with which terrorists are also able to lay their hands on a gun in the area has prompted authorities to take greater efforts to thwart the phenomenon of the widescale illicit industry.

Indeed, perhaps one of the most alarming facts about the limited resources that go into purchasing a weapon can best be exemplified by the fact that the suits worn by the Saron terrorist cost more than the weapons they used to carry out the attack.

Equally worrisome is the fact that in 2016, 45 illegal weapons and bullets manufacturing sites were shut down while 450 weapons were confiscated.

The reinvigorated efforts by the security forces however are paying dividends, as is evinced by the fact that the cost of such weapons have doubled or more than tripled as a result of the crackdown which has made made their availability increasingly scarce.

For example, the cost of a homemade Carlo sub-machine gun that just one year ago cost NIS 1,500, today costs NIS 7,000.

Similarly, the cost of a handgun that once cost NIS 10,000 has now doubled while improvised Kalashnikov assault rifles would have been purchased in the underworld for NIS 25,000 as opposed to today, which typically requires a payment of NIS 40,000.

Moreover, purchasing an M-16 machine gun would have set a buyer back by NIS 50,000 one year ago, whereas today buyers will need to part with NIS 80,000.

The weapons manufacturing sites have been repeatedly built underneath homes which can be entered through a concealed and small opening in the floor.