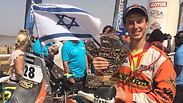 Gev Sella at the finish line
Photo: Barbara Sella
In a first, Israeli motorcyclist Gev Sella crossed the finish line in first place winning the Africa Eco Race with the best overall time.

Experienced drivers from all over the world racing motorcycles, SUVS and trucks raced 6,500km all while dealing with the harsh elements of the Sahara desert and navigating by a guidebook.

Gev Sella wins Africa Eco Race 2017

Sella, who will celebrate his 18th birthday next week, amazed the world of motorsports by winning the event, which is widely considered one of the toughest in the world. Sella took the lead at the beginning of the race and maintained it nearly the entire race.

In an interview with Ynet at the end of the race, Sella said, "The excitement is huge, it's unbelievable. It's going to take me a long time to digest it. I wasn't thinking about winning at all. I thought maybe if I'm lucky I can finish among the first, but I didn't think it would happen."