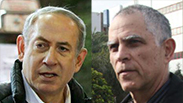 Netanyahu (L) and Mozes. Neither of them is capable of delivering the goods the other one wants
Photos: Avi Moalem, Hillel Meir/TPS
The man who seeks to eliminate Yedioth
Op-ed: Contrary to the common perception, American Jewish billionaire Sheldon Adelson did not create Israel Hayom in order to glorify and praise the Netanyahu family. He founded his free newspaper in order to destroy Yedioth Ahronoth and pave the way for a hawkish-nationalist change in the Jewish public opinion in Israel.
Yedioth Ahronoth publisher Arnon Mozes can't stand Benjamin Netanyahu, believes that Bibi is destroying the State of Israel and that he only has his best interest in mind. Benjamin Netanyahu, the prime minister of Israel, can't stand Arnon Mozes, believes that Noni is destroying the media and serving the left.

Their deep mutual aversion began in the 1990s, when Yedioth Ahronoth published an investigative report about Sara Netanyahu's behavior and about gifts received by the Netanyahu family.

Knowing this, I am shocked when I read the texts of the conversations between these two, as presented by Channel 2 correspondent Guy Peleg. In these conversations, they both go out of their way to stroke each other's ego, while completely disguising their real opinions of one another. Doesn't Bibi know that Noni is counting down the days to his downfall? Doesn't Noni know that Bibi is using all means to bring about the collapse of Yedioth Ahronoth?

They know, and they know that they know. Nevertheless, they are both playing some kind of strange poker game whose purpose I fail to understand. After all, neither of them is capable of delivering the goods that the other one is allegedly hoping for. The fact is that all of their meetings did not lead to a change in Yedioth Ahronoth's editorial content. Complicated? Perhaps, but it's mostly terribly disgusting. Disgusting, repulsive and outrageous.

As a citizen, my opinion is that Netanyahu is now harming the state I live in and want my children and grandchildren to live in. In order to save the state, Netanyahu must be quickly removed from the helm. As a Yedioth Ahronoth journalist, my opinion is that Mozes must announce that he is giving up his position as the newspaper's managing editor. His conduct has badly damaged Yedioth Ahronoth's reputation and worn out its credibility at a very difficult time. It would therefore be appropriate, in my opinion, for Noni Mozes to draw the required conclusion and stay away from the newspaper for now.

Contrary to common perception, Sheldon Adelson—the Jewish American owner of a chain of luxurious casinos whose fortune is worth about $31 billion—did not found Israel Hayom to glorify and praise the Netanyahu family. He founded his free newspaper to destroy Yedioth Ahronoth. I know that because I was told just that by Adelson himself (I didn't record him; I don't record people). And I'm not the only one to whom he said that. He said the same thing directly to the newspaper's publisher, Noni Moses.

Adelson gave an ideological explanation for his plan to destroy Yedioth Ahronoth by distributing the free Israel Hayom newspaper. Yedioth Ahronoth, he said, is a leftist, anti-patriotic newspaper that is smearing the state. And that is why he, Adelson, decided to destroy it.

Yedioth Ahronoth's elimination, according to his plan, was aimed at paving the way for a hawkish-nationalist change in the Jewish public opinion in Israel. He saw Netanyahu at the time as an ideal politician to head a government that will lead the change. Adelson decided to fund Bibi a decade ago, just like he had recently decided to fund Donald Trump. The politicians he funds are just technical tools for the fulfillment of Adelson's hawkish-rightist-conservative world view. "I am a billionaire with a world view," he used to say, and still does.

Adelson, a businessman who does not pbother with pretenses, who puts his money where his heart is, not only spoke—he poured. He poured hundreds of millions of shekels to start, fund and distribute a free newspaper that would promote his political-ideological goals. Today Adelson is satisfied. There is a clear, almost prefect correlation, between the time he began distributing Israel Hayom for free and the Israeli public's clear shift in the hawkish-nationalist-settlement direction.

I am watching, therefore, the celebration of hate by alleged "leftist" newspapers and journalists against Yedioth Ahronoth in the past week and wondering: Has the option of removing a competitor from the market completely blinded them and driven them crazy? With Bolshevik enthusiasm, they are waging a campaign against a newspaper—not against its publisher—which, because of its independence and battles, has become a target for a casino magnate. Throwing dirt at Yedioth Ahronoth has become their obsession.

Up until now, Yedioth Ahronoth has survived this assassination attempt through a tremendous journalistic-managerial effort. But this won't last forever. Yedioth Ahronoth's financial means are nowhere near Sheldon Adelson's financial means. The economic cracks are widening, and the existential threat is more than concrete.

At the same time, Adelson is closer than ever to fulfilling his vision: He currently owns one free newspaper and one newspaper, three websites and additional media organizations. And without affecting his fantastic wealth in any way, he can start and found a free television channel, as well. That is the reality of political media in Israel in 2017. Consider yourselves warned.

Arnon Mozes is the publisher and owner of the Yedioth Ahronoth Group, which includes Ynet.