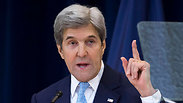 US Secretary of State John Kerry
Photo: EPA
Less than four days before he leaves his post, US Secretary of State John Kerry sat down for an interview on CNN to speak, among other issues, about the Israeli-Palestinian conflict.

He explained once again why the Obama administration decided to abstain from the UN Security Council Resolution condemning Israeli construction in the West Bank and eastern Jerusalem.

"We believe that Israel has a major choice and that that Palestinians have a major choice. The choice we put to Israel is that if you want to be a Jewish state, and you want to be a democracy, you cannot be a unitary state. Israel is marching down the road because of the increased settlements, and the absence of legitimate negotiations towards that possibility," Kerry said in his interview with Iranian-British journalist Christiane Ammanpour.

The secretary of state also said that "the leaders of the two countries involved—one country and one entity, the Palestinian Authority—have failed to come to the table and reach an agreement. You know the old saying 'you can lead a horse to water but you can't make it drink.' We did a lot of leading to a lot of water, but people decided they weren't ready for one reason or another to move.

"All we're trying to do is speak as a good, good solid friend of Israel. We have done more for this government, more for Israel than any other administration with Iron Dome with $38 million."

Ammanpour then interrupted and asked Kerry if he believes Israeli Prime Minister Benjamin Netanyahu is ungrateful for the aid. Kerry refused to answer the question.

"We speak out of a caring and concern as a democratic and Jewish state, and we also speak out of a concern for the Palestinians who will not be able to satisfy their aspirations ever without this ability to ever be able to create a state," he continued after the interruption.

"I guarantee," Kerry then stated, "that the Palestinians will not agree to less than a state based on 1967 lines with swaps. They're just not going to do that."