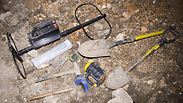 Tools used by the antiquities crime ring
Officers in the robberies inspections unit of the Israel Antiquity Authority (IAA) caught a ring of antiquities robbers red handed while they were illegally digging at an archaeological site by Golani Junction.

The group is the largest antiquities ring ever found in the north, and comprises of 11 people all aged between 30-50 years old. They are all from the Israeli-Arab towns of Turan, Kafr Manda, and Bir al-Maksur.

The 11 have been released on house arrest until the end of criminal proceedings.




The group was caught in the ruins of the biblical city of "Mishkana" in the Lower Galilee, digging for antiquities and causing damage to the site.

Nine of the members were caught while digging in an underground tunnel, and two more were caught at the entrance of the tunnel. One of them tried to run away.

Nir Distelfeld, one of the IAA investigators said "(Mishkana) was a Jewish village during the Roman period, and is written about in the Jerusalem Talmud. The Talmud says that the Jewish village was located half way between Tzipori and Tiberius. These antiquities thieves destroyed the history which belongs to everyone to make a quick buck. They have erased a very important part of the archeological heritage of the state of Israel."

Meanwhile, four people from Nablus were arrested next to Mt. Gerizim on Thursday morning with a metal detector and a coin from the time of the Greek period which is over 2500 years old. The four Palestinians were arrested and sent to the police for questioning.