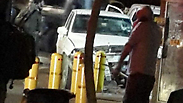 Scene of attack
Photo: Elazar Israeli
Two separate attacks in Binyamin region; two terrorists shot
Two terror incidents took place Wednesday evening; in the first, a Palestinian plows his car into a bus station in Kokhav Ya'akov before being shot dead; in the second, IDF forces were fired upon from a moving vehicle; terrorists neutralize.
Two separate terror attacks occurred near the Binyamin region on Wednesday, both near Ramallah, invloving one vehicular and one shooting attack. The perpetrators of both were neutralized by security forces.

In the first attempt, a Palestinian driver attempted to ram his vehicle into a group of Israelis standing at a hitchhiker's bus stop on Wednesday evening near a gas station in Kokhav Ya'akov in the West Bank, before being shot and killed by people present at the scene.

Scene of attempted terror attack (צילום: יהודה כהן , TPS)

Injuries were prevented in the attack as the Israelis standing at the station were waiting behind a concrete block positioned at the station as a result of the wave of terror which englufed the country over the last two years.

Upon searching the vehicle, a knife was found in the driver's possession, indicating that he may have intended to carry out a double attack.

Wednesday's second terrorist attack also occurred near Ramallah when a drive-by shooting was carried out against IDF forces, promting them to return fire and neutralize the terrorist. There were no reported injuries.

Earlier in the day, a number of Molotov Cocktails were hurled at Kibbutz Migdal Oz in the Gush Etzion region.

Three firefighting service teams were called to the scene to extinguish the flames. No one was injured in the attack.

In the morning, police units scoured the Jerusalem area in pursuit of a driver who smashed his vehicle through Hizma checkpoint in the city as security forces were carrying out security checks.

According to security forces, the security personnel stationed at the checkpoint began the process of engagement and attempted to stop the suspect, who managed to flee the scene.