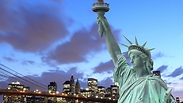 New York, New York
Photo: Shutterstock
New York, New York—a city so nice they named it twice. And Israelis tend to agree, as the Big Apple is once again their favorite travel destination, according to a poll conducted by the Smith Institute ahead of the International Mediterranean Tourism Market (IMTM) in Tel Aviv next week.

Thirty-eight percent of respondents said they wanted to visit New York, while 31 percent said they preferred to vacation in Thailand and its islands. In third place was London, with 19 percent, followed by Barcelona (16 percent), Amsterdam (13 percent), Rome (10 percent), Prague (nine percent), Berlin and Paris with eight percent each, and the Greek islands with seven percent.

New York was particularly popular among 30-49 year olds, with 42 percent of them saying they prefer visiting the Big Apple. Among those older than 50 or younger than 30, only 35 percent preferred New York to other destinations.

More ultra-Orthodox Jews (42 percent) prefer to visit New York than secular Jews (38 percent), while 34 percent of seculars chose Thailand as their prime destination compared to only 15 percent of ultra-Orthodox.

The poll included 500 respondents, who make up a representative sample of the adult Jewish population in Israel. Its margin of error is ±4.5 percent. Respondents were able to pick two favorite destinations if they so wished, making the total over 100 percent.