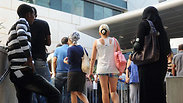 File photo: Unemployment office in Be'er Sheva
Photo: Herzl Yosef
Israel's rate of unemployment has dropped to only 4.3 percent in December 2016, according to the Central Bureau of Statistics, a drop from the 4.5% it was in November. This puts Israel among the lowest unemployment rates in the world.

The rate of unemployment throughout 2016 was 4.8% of working-age people, a lot less than 2015 (5.3%).

The rate of employed from among the general population reached 61.3% in December. Overall, 3.784 million Israelis were employed in December, while 170,000 were unemployed.

The percent of unemployed men dropped in December to 4.2%, compared to 4.4% in November, while the rate of unemployed women dropped to 4.4% from 4.5%.

The percent of unemployment dropped in the fourth quarter of 2016 in most districts of the country. In the Jerusalem district, the unemployment rate dropped to 6% compared to 6.5% in the third quarter; in the northern district, it dropped to 5.1% from 5.8%; in the southern district, unemployment rose to 5.4% from 5.3%; in the Haifa district, the rate of unemployment remained the same at 4.5%; in the central district, it dropped to 3.8% from 4.1%; finally, unemployment was lowest in the Tel Aviv district, where 3.3% were looking for a job compared to 3.7% in the third quarter.

The unemployment rate among Jews dropped to 4.1% in 2016 compared to 4.5% in 2015. Among Arabs, unemployment in 2016 was at 5%.