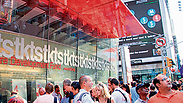 TKTS booth in Times Square
After New York and London, the discount TKTS booth is now making its way to Tel Aviv.
The Tel Aviv-Jaffa Municipality will open a tickets stand in Dizengoff Center that will sell tickets to concerts, exhibitions and events at up to 50 percent off price.
The sale will begin a few days prior to each show and continue until two hours before the beginning of the show.
Over the last few years, city hall has been offering last-minute tickets to Tel Aviv-Jaffa residents with a digital card. Now the municipality would like to extend its distribution to tourists and Israelis visiting the city as well.
All cultural establishments in the city will be able to participate in the sale.
"Why shouldn't a tourist go hear the philharmonic, watch a play with translated subtitles, or enjoy a dance show just like Israelis do when they travel abroad?" said Eytan Schwartz, director of the Tel Aviv Global program in the Tel Aviv-Jaffa Municipality.