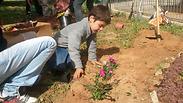 Two months after fighting the blazing flames in the Haifa fires, five firefighters returned to the Romema neighborhood, this time, accompanied by their children, to plant new trees in place of those consumed by the fire.
"During the fire, I was right on this hill," recalled Sgt. Rod Fox, 36, holding onto his 3-year-old son Asaf's hand. "We were protecting those adjacent buildings. Unfortunately, one of them caught fire, but we managed to save the others. Coming back here today with my son means closure for me."
Only two and a half months ago, dozens of firefighters risked their lives in an effort to control the major fires blazing across Haifa, trying to prevent it from spreading to the residences.
Thursday, five of those brave firemen made their way back to the Romema neighborhood, along with their children, to start over with a clean slate and partake in the land's rehabilitation.
Capt. Uri Ciobotaru, 44, planted a tree with his son Lior, 8, a third grader. "The occasion is beset with symbolism; to think that on the same hill where a few weeks ago firefighters valiantly fought to protect a series of houses are now taking part in the rehabilitation of the area, proving that life is stronger than everything," said Ciobotaru.
"For me, there is an added value of coming here with my kid, who saw and experienced, from his childlike perspective of course, the sights of the fire, and give a hand to the rehabilitation efforts."
Lt. Ronen Atias, 42, was on the receiving end of a loving hug from his daughter Yuval, 11, a sixth grader. "During the fire, I knew where my daddy was and I was worried about him," said Yuval, "But as much as I was worried, I also knew I could count on him to take care of himself."
Ronen stood listening to his daughter's words with a content and proud look on his face. "I'm happy to be back here with Yuval. It's fun to see that everything was renewed and that trees are being planted," he explained.
Next to the Atias family stood Sgt. Maj. Gal Pearl, 35, and his 4.5-year-old daughter Renee. "We were among the first teams to arrive on site," recalled Sgt. Maj. Pearl. "In the midst of the events, we couldn't possibly fathom the notion of coming back here a mere two months later... This is an important landmark for me and other firefighters."
Sgt. Maj. Dudu Eliyahu was accompanied by both of his daughters: 5-year-old Orian and 8-year-old Yuval. The father, who has been working as a firefighter for the past 13 years, said that "back then, everything was in flames and charred, and now, everything is being rehabilitated. I would never have believed that I'd be standing here so soon after the fire, planting a tree with my daughters."
The oak trees planted by the firefighters and their children were donated by the Haifa municipality. Mayor Yona Yahav promised that in place of the 28,000 trees consumed by the flames, they will plant 100,000 new trees in the coming year. "We will bring the green back to the city," he said.