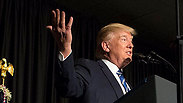 Trump weighs new travel ban, Supreme Court test still possible
After his original 'Muslim ban' is repeatedly blocked in court, US President Trump speaks of issuing a new order that he is confident will be approved; White House Chief of Staff Reince Priebus says that if needed, the administration is willing to take their case to the Supreme Court.
US President Donald Trump is considering issuing a new executive order banning citizens of certain countries traveling to the United States after his initial attempt to clamp down on immigration and refugees snarled to a halt amid political and judicial chaos.

Trump announced the possibility of a "brand new order" that could be issued as soon as Monday or Tuesday, in a surprise talk with reporters aboard Air Force One late on Friday, as he and the Japanese premier headed to his estate in Florida for the weekend. Later on Saturday, he tweeted "Our legal system is broken! "77% of refugees allowed into U.S. since travel reprieve hail from seven suspect countries," before adding "so dangerous" all in capital letters.

Trump speaks of future plans to enforce new national security measures

His signaling of a possible new tack came a day after an appeals court in San Francisco upheld a court ruling last week that temporarily suspended Trump's original Jan. 27 executive order banning travel from seven majority-Muslim countries.

Trump gave no details of any new ban he is considering. He might rewrite the original order to explicitly exclude green card holders, or permanent residents, said a congressional aide familiar with the matter, who asked not to be identified. Doing that could alleviate some concerns expressed by the courts.

A new order, however, could allow Trump's critics to declare victory by arguing he was forced to change course in his first major policy as president.

Whether or not Trump issues a new order, his administration may still pursue its case in the courts over the original order, which is still being reviewed by the 9th US Circuit Court of Appeals.
Trump warns Iran's Rouhani to 'be careful'
Meanwhile, Trump issued a personal warning on Friday to Iranian President Hassan Rouhani. Iran is one of the seven included in his orignal ban
Trump was asked in a brief appearance in the press cabin aboard Air Force One to respond to the remarks reportedly made by Rouhani, who was quoted in the media as saying that Iran had shown in the 38 years since the revolution that "it will make anyone who speaks to Iranians with the language of threats regret it."
"He better be careful," Trump said.
Trump on Feb. 2 put Iran "on notice" over charges that Tehran violated a nuclear deal with the West by test-firing a ballistic missile, taking an aggressive posture toward Iran that could raise tensions in the region.
Trump made the comments about Rouhani while flying on the presidential jet carrying him and Japanese Prime Minister Shinzo Abe for a weekend at Trump's Mar-a-Lago retreat in Palm Beach, Florida.
Supreme Court appeal remains possiiblity
Referring to a possible new ban, White House Chief of Staff Reince Priebus told reporters late on Friday that taking the case to the Supreme Court continues to be an option for the administration, after another White House official said earlier in the day the administration was not planning to escalate the dispute.

"Every single court option is on the table, including an appeal of the Ninth Circuit decision on the TRO (temporary restraining order) to the Supreme Court, including fighting out this case on the merits," Priebus said.

"And, in addition to that, we're pursuing executive orders right now that we expect to be enacted soon that will further protect Americans from terrorism."

Trump's original order, which he called a national security measure meant to head off attacks by Islamist militants, barred people from Iran, Iraq, Libya, Somalia, Sudan, Syria and Yemen from entering for 90 days and all refugees for 120 days, except refugees from Syria, who were banned indefinitely.
Clinton goes on the attack, Conway fires back
The abrupt implementation of the order plunged the immigration system into chaos, sparking a wave of criticism from targeted countries, Western allies and some of America's leading corporations, especially technology firms.
Among the many people watching Trump's battle with the courts unfolded was his former adversary, Hillary Clinton. Following the repeated rulings to block Trump's bn, Clinton tweeted "3-0," in reference to the panel of three judges who concluded that Trump had not managed to bring forward a single piece of evidence to support the necessity of his executive order.
Senior Trump advisor Kellyanne Conway, however, did not let the tweet pass by without a response, tweeting at Clinton "PA, WI, MI," referring to states Pennsylvania, Wisconsin and Michigan, which Clinton lost to Trump despite predictions that she would win all three.
Among other, the original Muslim ban raised concern for Israelis holding dual citizenship with one of the banned countries. However, a later clarification made by the Trump administration stated that they will be admitted into the US as long as their second passport was not valid.