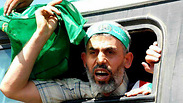 Hamas' new leader in Gaza: A radical and a militant
Analysis: Yahya Sanwar's election is bad news for Israel. The terrorist who was released as part of the Shalit deal has set inadmissible conditions for a future prisoner and body swap deal and is interested in tightening Hamas' relations with Iran while preparing for the next round of fighting.
The election of Yahya Sanwar as Hamas' new leader in the Gaza Strip is a significant change, and not for the better, as far as Israel is concerned. Not just because Sanwar is one of the terrorists who were released in exchange for kidnapped IDF soldier Gilad Shalit and because he is radical and very militant in his conduct and in his views, but because he thwarts any chance of a "hudna" (truce) in the strip and a long-term resolution of Hamas' relations with Israel.

Sanwar shatters any hopes that Israel may have had for a prisoner and body exchange deal with Hamas. He is the one who rejected the recent Israeli proposal out of hand. The conditions he sets for a future deal are publicly and politically inadmissible in Israel: As a precondition for discussing such a deal, he is demanding that Israel release about 50 of the terrorists who were freed in the Shalit deal and arrested again in 2014 following the kidnapping and murder of three Israeli teens. After this condition is met according to his demands, negotiations will be launched on the release of dozens of other terrorists in exchange for the return of two bodies and two civilians who crossed into Gaza.

Yahya Sanwar knows that these conditions are inadmissible in Israel, but he keeps demanding them while increasing his organization's motivation to carry out additional abductions in the future in order to strengthen his leverages of pressure on Israel.

Sanwar's election is bad news also in terms of Hamas' general orientation in the Gaza Strip. It means that from now on, all of Hamas' resources in the strip will be subject to the needs of the military wing and the tunnel excavation.

Mohammed Deif will theoretically become the head of the military wing, but Sanwar will in fact be both the political leader and the supreme commander of the Izz al-Din al-Qassam Brigades. Ismail Haniyeh, who is expected to succeed Khaled Mashal as head of Hamas' political bureau, has a Muslim Sunni Arab orientation. He seeks to improve relations with Egypt in order to ease the pressure on Gaza's residents and improve relations with Saudi Arabia and the Gulf states in order to receive donations from them.

Sanwar, on the other hand, likely wants to retighten the relations with Iran, as Tehran had funded weapons for Hamas' training activities and military technologies, which are much needed in the strip right now. Tehran can also transfer funding for the production of weapons and the tunnel digging through the Revolutionary Guards' Quds Force and its commander, Qasem Soleimani.
Militarily unprepared for a conflict
Sanwar is not interested in an escalation with Israel right now. Not because he seeks a political arrangement with the Israelis, but because he likely wants to prepare for the next round of fighting.

That is why he prefers, like Haniyeh, to focus right now on improving relations with Egypt and on improving the quality of life and livelihood of Gaza's residents at the current stage.

It's likely, however, that under his leadership Hamas will speed up its arming and training efforts ahead of the next round of fighting. Israel is continuing to build the "barrier" on the Gaza border, the combination between a wall and an intelligence and warning measure which already exists along the border and which Israel keeps building at a cost of tens of billions of shekels in order to thwart the threat of tunnels infiltrating its territory and of surprise attacks on the communities located near the fence.

Sanwar knows that once this barrier is ready, his ability to harm Israel will be reduced. The new Hamas leaders' response to the hundreds of vehicles and heavy engineering machines and people crowding on the Israeli side of the Gaza border will, therefore, serve as a first test of Sanwar's ability to restrain himself – for now.