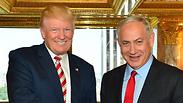 Trump (L) and Netanyahu
Photo: Kobi Gideon, GPO
Prime Minister Benjamin Netanyahu met with US President Donald Trump on Wednesday. In contrast to former US President Barack Obama, Netanyahu's meeting today with President Trump will not focus on "what will Israel do for the Palestinians today", but rather on "What does Israel want to be when it grows up, how do you see the Middle East."
The Trump administration suggested Tuesday that peace between the Israelis and Palestinians may not come in the form of a two-state solution—a position that could represent a major shift from what has been US policy for more than 20 years.
Speaking to reporters ahead of Trump's meeting Wednesday with Netanyahu, a senior White House official said Trump is eager to begin facilitating a peace deal between the two sides and hoping to bring them together soon. However, the official said it will be up to the Israelis and Palestinians to determine how to go about achieving peace.
"The main goal is peace," the official stated ahead of the meeting, "whether by way of a two-state solution, if the two sides want, or by other means agreed to by the sides."
Insisting that Trump had no intention of dictating terms, forging peace was high on the president's agenda.
A senior Republican source with close links to several of the administration's key Middle East players, who serves as an informal adviser to some of them, has told TPS that these are the administrations main concerns.
"The Palestinian issue per se does not figure high on Trump's agenda", said the source. "His main concern is Iran. He believes that it is a primary American interest to contain it, and to thwart Tehran's ambitions to become the region's dominant power".
Speaking on condition of anonymity because he was not authorized to speak on behalf of the administration, the source said that Trump is not as much a unilateralist as people think. In contrast to his predecessors, however, the president believes in ad-hoc regional coalitions and alliances, rather than UN-based or global ones.
"Unlike Obama, who was risk- and confrontation-averse, he has no problems with confrontations, and believes America must and should act to effectively contain Iran. But he would much rather do it together with Turkey and the moderate Sunni states, and if possible with Russia as well, than have the US shoulder the entire burden by itself".
PM meets with high-profile US officials
Netanyahu tweeted Wednesday afternoon about the meeting that took place with Tillerson, repeating comments he made before he borded for Washington.
"Excellent meeting with US Secretary of State Rex Tillerson. The US-Israel alliance has always been strong, and it's about to get stronger," he wrote on Twitter.
Tillerson was the official who called Netanyahu shortly before the White House issued a press statement two weeks ago stating that while it had not formulated a policy on settlements, their construction may not be helpful.
Netanyahu would later tell express his view that "Indeed, it is true that it will be more comfortable for Israel but anyone who thinks that there won't be limits on Israel is mistaken," he said.
Trump Spokesman Sean Spicer said that Trump and Netanyahu would discuss an array of issues including strengthening the relationship between the two countries, the need to stabilize the region, the Iranian threat and the need to fight against ISIS and terror.
Spicer added that the two would discuss a future agreement between the Israelis and the Palestinians so that the two sides could live in peace.
Asked during his press conference whether Trump and Netanyahu would speak about moving the US embassy from Tel Aviv to Jerusalem, as promised by the president during his election campaign, Spicer remained evasive on the matter, stating that he has no intention of going ahead of Trump on the issue.
During his final White House news conference, Obama warned that the moment for a two-state solution "may be passing" and said the "status quo is unsustainable."
After meeting with Trump, Netanyahu is due to head over to Capitol Hill for meetings with lawmakers on both sides of the aisle, including Senate Majority Leader Mitch McConnell, House Speaker Paul Ryan and Senate Minority Leader Chuck Schumer.
Wheeling and dealing for peace
Trump takes pride in his deal-making skills and said during his campaign that he'd love the challenge of negotiating a Mideast agreement. He has appointed his son-in-law, Jared Kushner, to lead the effort.
Trump told The Associated Press during his campaign that he wanted to be "very neutral" and try to get both sides together. But his tone became decidedly more pro-Israel as the campaign progressed.
He has said that Palestinians have been "taken over" by or are condoning militant groups. Some of his top aides challenge the legitimacy of Palestinian demands for a state.
After repeatedly clashing with Obama for eight years, capped by a UN Security Council resolution condemning Israeli settlements, Netanyahu seemed relieved by Trump's arrival. Trump slammed the US decision to abstain from the UN vote, saying in December that Israel is being treated "very, very unfairly."
Now in office, however, Trump has been forced to reevaluate and revisit his position on a number of issues—including those relating to Israel.
After initially greeting Israel's settlement announcements with a shrug, Trump appears to be having second thoughts. In an interview with a pro-Netanyahu Israeli daily Friday, Trump said, "I am not somebody that believes that going forward with these settlements is a good thing for peace."
In preparation for the meeting, Yedioth Ahronoth obtained information that the White House requested a detailed report on the ongoing investigations against the Israeli prime minister in order to ascertain whether Trump will be facing a man with whom he can do business, or a man who is about to make an exit from the political scene.
Moreover, despite the cordial relations which are expected to characterize the talks, White House officials were perturbed by comments in a cabinet meeting made by Netanyahu on Trump's personality shortly before departing to Washington.
Indeed Netanyahu warned the ministers to be under no illusions: Trump still believed in carving out two states, meaning that Israel had to act with caution, particularly in light of his personality.
It is unclear what was written in the report provided to the president, but it is believed that White House officials interpreted these words as an insult.
While the meeting is expected to be much warmer than Netanyahu's famously tense encounters with Obama, the Israeli leader will still need to tread with caution on sensitive issues like Israeli construction in the West Bank, Iran and the war in Syria.
Meanwhile, in Ramallah senior Palestinian official Hanan Ashrawi said that the change in US policy "does not make sense."
"This is not a responsible policy and it does not serve the cause of peace," Ashrawi said. "They cannot just say that without an alternative."
Trump has yet to speak directly to the Palestinian leadership since taking office.
Ahead of the visit, Netanyahu said he would handle ties with the US in a "prudent manner," but he steered clear of specifics.
The Israeli prime minister is also scheduled to have breakfast Thursday with Vice President Mike Pence before departing back to Israel.
Article reprinted with permission by TPS .