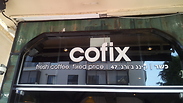 A Cofix coffee bar branch
Caffeine addicts mourn as Cofix announces price hike from five to six shekels
The overall 20% price raise will take effect this coming Sunday; Cofix founder Avi Katz explains that 'This will allow us to expand. There's no other way to maintain this business,' adding, 'How long can you carry the revolution on your back, alone?"?'; Katz tells Ynet he's sure the public will understand.
Three and a half years after it first opened its monochromatic-colored doors, coffee shop, supermarket and bar chain Cofix is cashing in on its price-lowering revolution. On Thursday, the company came out with a statement for the stock market, saying that come this Sunday, it will be raising the prices of all its coffee shop items from five to six shekels. The chain has 132 stores, all of which will be hiking up their prices.

The move was announced by the company board, "Due to rising prices (including the rise in wages and certain basic products) over the last three and a half years." The statement continued to say that "The price of the products sold at the cafés and coffee carts positioned at supermarkets of the company's daughter company will be set to six shekels as of February 19." The announcement also stated that "There will not be a change in the prices of Cofix supermarket items."

"I'm sure the public will respond with understanding," said Cofix founder Avi Katz. "He added that he does not expect the public to be disappointed by the raise and rely on the chain any less. "Over one more shekel? I don't think so. We sell 200,000 items a day. Every day. That means that even if I save 6 – 7 shekels, I've been putting between a million and a million and a half shekels in the public's pockets every day for three years. Beyond the giant change that that people have been calling 'the Cofix effect,' which everyone can see in the streets, how long can you carry the revolution on your back, alone?

"Over the course of these years, rent and wages have gone up by 15%. Minimum wage has been updated twice during this time. In addition, the prices of basic materials have gone up. So this is understandable. We've done this huge revolution, and we haven't raised by much. We haven't raised it to the products' realistic prices," said Katz.

You did promise a set price, an entire menu under a set price, but you also said you wouldn't budge from five shekels.

"I might have said that. Three and a half years isn't enough time to think things through, vis-à-vis what you've promised but can't keep. It's an entire governmental term. Should I tell you all the promises they haven't kept? We did everything we could, and it's a long time to keep your word. We did keep our word."

Cofix's price change comes after its main rival and copycat, Cofizz, has already announced its own, gradual price hike from five to six shekels. To compete with Cofizz, Cofix has introduced many items in addition to their food orders, including toothbrushes, blankets and toys for toddlers.

Over the past year, Cofix has expanded to Russia, but in Israel, its expansion has slowed down.

"We can expand now," said Katz. "In Okafim, we couldn't open a Cofix, since we weren't sure the traffic would justify the branches. There are 100 locations where I didn't open one because the rent had blocked the expansion. Once I make this technical correction, I will be able to expand once more."