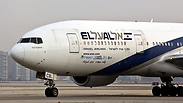 El Al and the Pilots Union have officially signed a new collective bargaining agreement ending a conflict that included cancelled flights, calls for pilot resignation and high-profile legal disputes.

"Understandings were reached that regulate the issues of retirement and employment conditions for pilots between the ages of 65 and 67 and an agreement was signed between management and the pilots. Additionally, supervisors will be returning to their positions," said El Al CEO David Maimon.

"We again apologize profusely to passengers and our customers who were recently affected. We are confident that together we can return the company to active duty and resume operations for the benefit of our customers and employees," Maimon added.

The main point of contention between the two sides was working conditions for pilots over the age of 65, who due to international law are no longer allowed to fly passengers. Pilots will continue working until the age of 67, when they will retire.

After negotiations, the two sides agreed that pilots 65 and older will work as simulator instructors and will be required to log 120 simulations per year, or roughly 10 per month.

Additionally, pilots who choose to retire will be given a bonus by the company of NIS 500,000 for First Officer and NIS 600,000 for Captain.

Chairman of the Transport Workers Union, Avi Edri, added, "The task of the dignity and status of veteran pilots has been completed. I congratulate all the parties that we have reached an agreement safeguarding the rights and status of veteran pilots. Veteran pilots won the recognition they deserve and those who choose to retire can do so in honorable conditions."