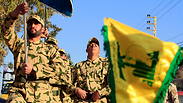 Hezbollah rally in Lebanon
Photo: AP
Hezbollah has reportedly received a warning from the Arab world that Israel would respond with force to any attack against it the terror organization might launch out of Syria or Lebanon, the London-based Al Hayat newspaper reported on Sunday.

Israel, according to sources who spoke to the paper, was closely monitoring Hezbollah's activity in both Syria and Lebanon, particularly its armament and presence in different areas of Syria. Israel is reportedly worried that the terror organization would take advantage of its positions in Syria to launch an attack against its territory.

This warning likely prompted Hezbollah leader Hassan Nasrallah on Thursday to threaten to fire missiles at the ammonia plant in Haifa, which he claimed would cause an explosion similar to that of a nuclear bomb.


According to the report, Arab states believe that the new US administration of Donald Trump could help Prime Minister Benjamin Netanyahu recruit the countries in the region against Hezbollah.

The Arab warning therefore called on Hezbollah to act cautiously and prudently.

On Thursday, however, Nasrallah insisted that "Trump's election does not scare us, even if claims that he will give Netanyahu the green light to wage a war on Lebanon turn out to be true."

He claimed that "The leaders of Israel understand that the resistance (Hezbollah) has the ability to cover the entirety of occupied Palestine with missiles. We must keep this capability because it acts as a deterrent for the Third Lebanon War."

According to Al-Hayat, Lebanese President Michel Aoun was briefed on the matter during recent visits to Arab states, particularly about the close ties between Israel and the United States, which is cause for concern among Arab nations.

Aoun said in an interview with the Egyptian channel CBC earlier this month that Hezbollah's arms "do not contradict the state... and are an essential part of defending Lebanon.

"As long as the Lebanese army lacks sufficient power to face Israel, we feel the need for (Hezbollah's) arsenal because it complements the army's role," he said.

In response, Israel's Permanent Representative to the UN, Amb. Danny Danon, sent a letter to Secretary-General António Guterres and to the Security Council protesting the Lebanese president's comments.

In response to the letter, Aoun said Saturday that any Israeli attempt to violate Lebanon's sovereignty would be met with the "appropriate response."

Speaking in a meeting with visitors to Beirut's presidential palace, Aoun said on Saturday that Danon's letter "constitutes a threat to Lebanon. The international community should be wary of Israel's aggressive intentions against Lebanon."

The Lebanese president also said, referring to the 2006 resolution that ended the Second Lebanon War, "Who need to implement Security Council resolutions is Israel, before others. Israel still refuses to implement Resolution 1701, moving from the cessation of hostilities phase to the ceasefire stage, despite more than 11 years having passed since the resolution was released."