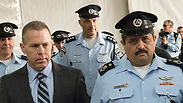 Erdan (L) and Alsheikh. Based their claims on weak and possibly manipulative findings
Photo: Efi Sharir
Umm al-Hiran incident: Haste makes waste
Op-ed: Police Commissioner Roni Alsheikh and Public Security Minister Gilad Erdan unnecessarily harmed the state's relationship with the Bedouin sector with their hasty and baseless comments. The good news is that despite their recklessness, the truth is coming out and there is no cover-up. Now, it's time for them to apologize.
The new revelations about what happened during that fatal night in the Bedouin village of Umm al-Hiran contain both good news and bad news.

Let's start with the latter. This is very bad news for Police Commissioner Roni Alsheikh and Public Security Minister Gilad Erdan, who rushed to announce that Yaqoub Abu al-Qiyan had carried out a vehicular attack which killed policeman Erez Amedi Levi.

They relied on findings which turned out to be weak at best, and downright manipulative at worst. Their statements unnecessarily ruptured, at least temporarily, the state's relationship with the Bedouin community.

The good news is that despite this serious error on the part of these two officials, the truth is coming out. The rule of law is winning. The Police Investigations Unit is expected to release findings which contradict the claims made by the police chief and the minister. There is no cover-up here.

It's true that we saw both command and political recklessness. The Bedouins are angry with Alsheikh and Erdan, and rightfully so. But at the end of the day, a serious examination by the state revealed that their claims were justified. So paradoxically, deep in their hearts, they know that they can count on the state.

The relations between the Bedouin sector and the State of Israel are far from simple. There is no shortage of information about what is taking place in the south. There is a steady stream of information about violence, about the takeover of lands, about protection fees, about unruly behavior on the roads, etc.

But still, most Bedouins are not taking part in any crime. And in addition, a high crime rate does not justify false claims about a terror attack and does not rule out claims of deprivation and discrimination.

Precisely because of this fact, Alsheikh and the Erdan should have waited. Haste simply amounts to waste.

They know better than others that this is a sensitive issue. They know that it doesn't take much to cause a deterioration in the relations between Jews and Arabs in general, and between Jews and Bedouins in particular. They know that there are representatives of bellicose organizations operating on the ground. And yet despite their awareness, they scarcely hesitated to hurl baseless claims into the public domain.

It should be added that the reckless statements issued by the minister and by the police chief have nothing to do with the regulation of the Bedouins' lands. The state's proposals were serious and generous. Radical elements made every effort to prevent the implementation of the agreement. They wanted another bleeding wound, and they succeeded. Precisely on this background, the most senior officials in the law enforcement system should have stayed away from unnecessary statements.

Minister Erdan changed his version on Wednesday and Thursday, and instead of talking about a vehicular attack, he spoke about an incident which left two people dead.

That's not enough. When Israel is accused of injustice based on false claims, Israel demands an apology. That is what should happen in this case too. In light of the new findings, the Bedouin casualty's widow, Amal Abu Saad, asked the officials: Don't resign, apologize. That's an appropriate, restrained and noble request. Let's just hope that the minister and police chief accept it. On Thursday morning, he went some way in implying his readiness to do so.