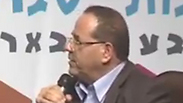 Minister Ayoob Kara in the event
Minister Ayoob Kara spoke Saturday at a Be'er Sheva cultural event about a "robot that will eliminate the heads of Hamas and (Hamas leader) Hassan Nasrallah" without endangering soldiers in hostile territories.

"After what happened in Lebanon and Gaza I don't want to send soldirs," Kara said. "There are technological surprises on the way. Among other things, I can send a robot to Gaza that will fight all the heads of Hamas. It will identify them from afar and fight them from within."

To answer the interviewer what did he mean by that, he requested, "Don't ask me where I get my information from," adding, "I'm talking about a robot that is operated beyond the border and locates people with long distance radar targets. It cannot be destroyed, it can only destroy."

Intrigued, the interviewer asked what happened if it was shot. "It doesn't damage it because it (the robot) is made from special material," the minister responded. "It can then go down tunnels and chase after those rats and eliminate them. It doesn't go back without eliminating them."

Surprised to hear all of that, the interviewer asked Kara "Isn't that science fiction?" to which Kara responded "If we would have asked about drones several years ago, would we have believed that it was possible?"

After that Kara elaborated, "Shimon Peres was a fan of mine. He spoke to me before he passed… we spoke about this subject. Since he was an extraordinary man and a confidant, he told me where it was being made in the US. It's a matter of two to three years (before it's ready). The robot to eliminate Nasrallah and the heads of Hamas is on its way. No need to send soldiers there."