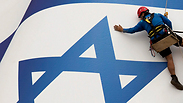 The Central Bureau of Statistics published a report Monday detailing a snapshot of the Israeli population as measured by personal and social welfare. As it turns out, 89 percent of Israelis who are over the age of 20 claim to be satisfied with their lives.

Under the category of personal welfare, various indices measuring physical and emotional wellbeing were calculated for both men and women in the Jewish and Arab demographics.

They include life expectancy, depression/feelings of loneliness, occupational satisfaction and perception of physical safety.

Results for mental health however, were worrisome. In 2015, 27% of people aged 20 and up said they felt depressed occasionally, while 7% indicated they felt depressed often.

Within that, 33% of Arabs were depressed often or occasionally, compared to Jews at 26%. In terms of gender, women were depressed either occasionally or often 10% more than men.

Additionally, data related to loneliness also revealed a disturbing trend. In 2015, 23% felt lonely often or occasionally so, with women feeling lonelier than men. 30% of Arabs feel lonely, compared to 22% of Jews. The main increase occurred between 2011-2013.

On the brighter side, when it came to personal welfare, 88.4% of Israelis felt satisfaction from their jobs and 81% felt safe walking alone at night in their neighborhood, with men feeling more confident than women.

Social welfare data presented statistics on housing, the employment rate, road safety and social discrepancies.

In terms of housing, Jews displayed lower levels of housing density than Arabs (0.82 persons compared to 1.36 persons).

It also appears that the social discrepancies in Israel remain in effect, especially with regard to housing expenses. Compared with other OECD countries, Israel ranks relatively high, trailing only by the US, Turkey, Mexico and Chile.