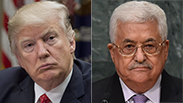 Trump and Abbas
Photo: AFP
Trump mulls Middle East peace conference
After Friday's phone call between United States President Donald Trump and Palestinian President Mahmoud Abbas, the White House now says that a Middle East peace conference is a real possibility. The American leader sends his advisor on Israel, Jason Greenblatt, to begin talks with Israelis and Palestinians.
US President Donald Trump is mulling the option to hold a peace conference in the Middle East in an effort to resolve the Israeli-Palestinian conflict, after speaking on Friday with Palestinian President Mahmoud Abbas.

Friday's 10-minute phone call was the first between Trump and Abbas since the former took office.

"The president emphasized his personal belief that peace is possible and that the time has come to make a deal," the White House said. Trump underscored that such a peace agreement must be negotiated directly between the two parties and that the United States will work closely with Palestinian and Israeli leadership to make progress toward that goal, the statement said.

The White House said in a statement that the two leaders on Friday discussed ways to advance peace throughout the Middle East, including a comprehensive agreement that would end the Israeli-Palestinian conflict.

"The president noted that such a deal would not only give Israelis and Palestinians the peace and security they deserve, but that it would reverberate positively throughout the region and the world," the White House clarified.

In a statement made by the Palestinian authority, Trump is stated to have said that "it is time we end the suffering which lasted for 70 years." Abbas responded that they are "committed to peace, as a strategic achievement in an overall effort to found a Palestinian state alongside Israel."

"We are ready to deal with President Trump and the Israeli government to resume the negotiations," said Abbas' spokesman Nabil Abu Rudeineh. "If the Israelis are ready, President Abbas has committed himself to a peaceful deal with President Trump." He added that they are pleased with the call and its results.

At the end of the call, Trump invited Abbas to the White House to discuss resuming peace talks. Rudeineh said Mr Abbas would travel "very soon," though he didn't give a specific date.

According to White House sources, Trump told his advisors that if preparations are made and the conference's purpose is made clear to not just be for show, then he is willing to participate in it. The White House is checking the possibility of holding the conference in Jordan or Egypt and is trying to even incorporate Saudi Arabia in it, which the president sees as an important ally.

Trump has repeatedly described brokering peace between the Palestinians and Israel as "the ultimate deal" and has stated his eagerness to achieve this. To this end, Trump's advisor on Israel Jason Greenblatt is due to arrive in Israel this week.

Greenblatt, a lawyer and Trump's advisor to Israel, is set to begin talks this week with both Israelis and Palestinians in Jerusalem and the West Bank. If progress is made, Trump plans to send his son-in-law, Senior Advisor Jared Kushner, to accompany Greenblatt.