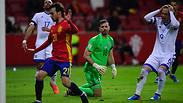 Israel vs. Spain
Photo: AFP
Nobody expected the Israel National Team to return from a game against Spain with any points.

Alas, Israel managed to come out of the World Cup qualifier with something to show as Lior Rafaelov managed to find the back of the net from inside the Spanish box during the 76th minute.

Israel National Team comes to Spain

That would be one of the few positive things Israel managed to take away from the game, as host country Spain took Israel not only to the pro-BDS city of Gijón, but also the proverbial woodshed.

The Spaniards put on an absolute clinic in ball-handling skills, possession and coordinated offense and defense, which provided many scoring opportunities and helped them capitalize on four such chances.

David Silva struck first in the 13th minute followed by Victor Machin just before first-half stoppage time. Diego Costa opened the second half with a header off a corner kick and Francisco Alarcon added the fourth just prior to the final whistle.

Friday's defeat puts Israel in third place of Group G behind powerhouses Spain and Italy.