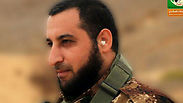 Assassinated Hamas commander Mazan Fukha
Hamas will avenge commander's killing, but not in the immediate future
Analysis: The fact that Hamas leaders are attributing the assassination of senior commander Mazan Fukha to Israel raises the possibility of escalation on the Gaza front. Regardless of who did it, the assassination serves as a warning to the rest of the prisoners who were released in the Shalit deal and returned to their evil ways.
For now, Israel is neither confirming nor denying any involvement in the assassination of Mazan Fukha, a senior commander in Hamas' military wing, but that doesn't really matter. The fact that Hamas leaders are attributing the assassination to Israel raises the tensions and the possibility of escalation on the Gazan front. Hamas will seek revenge, and experience shows that it will try to do so through a murderous terror attack.

The preference is to target soldiers or members of the Israeli security forces. This is a familiar tactic which we must prepare for. In general, therefore, the chance of a flare-up between Israel and the Palestinians in the strip increased upon Fukha's assassination. It likely won't happen tomorrow morning. They will wait with their revenge until they locate a weak spot and until they prepare it, but it may take place on the Gaza border or in the West Bank.

The question is: If Fukha was indeed assassinated by Israel, was it the right and appropriate thing to do? The answer—if that's really what happened—is probably yes. Fukha is one of the 1,027 prisoners who were released in 2011 in exchange for kidnapped IDF soldier Gilad Shalit. Immediately after his release, he joined the leadership of Hamas' military wing and began initiating terror attacks. Most of Hamas' terror attack planning systems and main units in the West Bank and Gaza are headed by prisoners who were released in the Shalit deal, led by the recently elected Hamas leader in Gaza, Yahya Sanwar.

Fukha's family members say the Shin Bet warned them several times that if their son, who was deported to Gaza due to the risk he posed, would continue to operate Hamas' terror attack system in the West Bank—he would be punished. Fukha's father, who lives in the town of Tubas in the northern West Bank, said that "Israeli intelligence officers came to our house many times and relayed messages to us that Mazan would be assassinated if he continued his actions."

If what the family is saying is true, it was a yellow penalty card, and the assassination was possibly the red card that Israel showed Hamas in Gaza. It's reasonable to assume that Israel would have had no interest in assassinating Fukha if it were not for his involvement in planning a terror attack which left several Israelis dead. His assassination, even if it was not carried out or commissioned by Israel, serves as a warning to the rest of the prisoners who were released in the Shalit deal and returned to their evil ways.

We should also take into account the possibility that Fukha's assassins were Gazans who had scores to settle with him and with Hamas' military wing. For example, members of the Salafi organizations who are being persecuted by Hamas in a bid to improve its relations with Egypt. The members of these organizations are trying to deter Hamas from continuing the mass arrests of their people, which is why they also had an interest to convey a deterring message to the Hamas leadership. Another possibility is that there was a combination of interests here.

In any event, Defense Minister Avigdor Lieberman is likely not too sorry about the assassination. The act itself definitely matches what is perceived as the hawkish approach he is leading in the defense establishment. While that does not prove that Israel did it, it should also be taken into account.

Israel should prepare for the possibility of escalation or a revenge attack, but that will likely not happen immediately. Hamas has its interests and it will find a way to get what it wants without risking a general conflict.