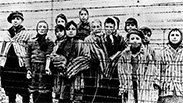 Children at Auschwitz
Photo: AP
A program to provide direct funds to Serbian Holocaust survivors all over the world has been launched in Serbia, an international Jewish group said Tuesday.

The program results from laws passed last year in Serbia allowing for the restitution of heirless and unclaimed Jewish property seized during the Holocaust to the Jewish community, The World Jewish Restitution Organization said in a statement.

The statement said the law envisages the government paying 950,000 euros per year ($1 million) for 25 years to the Federation of Jewish Communities in the country. For at least the first ten years, one-fifth of the funds will be set aside for direct payments to Holocaust survivors, the group said.

"This is a historic step to provide compassion and a measure of justice to Serbian Holocaust survivors more than 70 years after the Nazis declared Serbia free of Jews," said Gideon Taylor, WJRO Chair of Operations.

"We urge other countries to follow Serbia's lead and return heirless Jewish property so that Holocaust survivors in need may benefit during their lifetimes," he added.

The group adds that letters are being sent to 1,000 former Serbian Holocaust survivors in 27 countries throughout the world, including Serbia. The survivors can apply by the end of July.

Tens of thousands of Serbian Jews perished during World War II Nazi occupation. Some 3,000 Jews live in Serbia today.