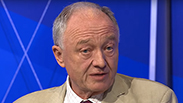 Ken Livingstone
Photo: YouTube
Jewish leaders in Britain are accusing the opposition Labor Party of tolerating anti-Semitism after it failed to expel a senior politician who said Adolf Hitler had been a supporter of Zionism.

Former London Mayor Ken Livingstone has been suspended until April 2018.

Livingstone, who has repeatedly asserted collaboration between Zionists and Nazis before World War II, said the party hearing had been "like sitting through a court in North Korea."

Karen Pollock, chief executive of the Holocaust Educational Trust, said Livingstone's suspension was "a slap on the wrist for a serial offender." Labor lawmaker Wes Streeting said the decision was "a terrible betrayal of Jewish Labor supporters."

Allegations of Labor anti-Semitism have grown since pro-Palestinian socialist Jeremy Corbyn was elected leader in 2015.